Corrosion-Resistant

3000 Series Aluminum Sheets and Bars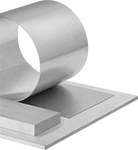 3000 series aluminum stands up to outdoor use, as well as exposure to chemicals. It offers a good combination of strength, formability, and weldability. It's often used for storage tanks, heat exchangers, garage doors, and general sheet metal work.
For technical drawings and 3-D models, click on a part number.

Certificates with a traceable lot number are available for these products. Download certificates from ORDER HISTORY after your order ships.
Yield Strength:
.003" to .

010"

Thick.:

Not Rated
All other

sizes:

21,

000 psi
Hardness:
.003" to .

010"

Thick.:

Brinell 25

(Soft)


All other

sizes:

Not Rated
Temper:
.003" to .

010"

Thick.:

O (Annealed)
.012"

Thick.:

H22 (

1/4

Hard)
.016"

Thick.:

H14 (

1/2

Hard)

Fabrication:

Cold Rolled
Specifications

Met:


.006" to .

016"

Thick.:

ASTM B209

Thick.

Thick.

Tolerance

Wd.

Lg.

Temperature


Range,

°F

Each
0.012"
-0.0015" to 0.0015"
2"
10 ft.
-15° to 300°
0000000
000000
0.012"
-0.0015" to 0.0015"
6"
10 ft.
-15° to 300°
0000000
00000
0.012"
-0.0015" to 0.0015"
14"
5 ft.
-15° to 300°
0000000
00000
0.012"
-0.0015" to 0.0015"
14"
10 ft.
-15° to 300°
0000000
00000
0.012"
-0.0015" to 0.0015"
18"
5 ft.
-15° to 300°
0000000
00000
0.012"
-0.0015" to 0.0015"
20"
10 ft.
-15° to 300°
0000000
00000