For Use With

For Use With
Show
For Use With

For Use With
Hide
Warning: Products have one, but not necessarily all, of the selected characteristics.
Container Size

Container Size
Container Type

Container Type
DFARS (Defense Acquisition Regulations Supplement)

DFARS

(Defense

Acquisition
Regulations

Supplement)
Spill Capacity

Spill Capacity
Harsh Chemical
Spill-Control

Kits
Be prepared for a variety of chemical spills at your worksite.
Kits for ammonia include a liquid neutralizer. Pour or spray the neutralizer onto the spill, even when it's on a vertical surface. The liquid neutralizer binds with the ammonia to form safe organic salts.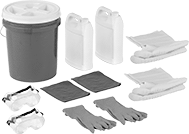 Spill


Cap.,

gal.

Size,




gal.

Type
Includes
Each
1.7
5
Plastic Pail
Two 1-gal. Jugs of Liquid Ammonia Neutralizer
Two Pairs of Latex Gloves
Two Pairs of Boot Covers
Two Pairs of Goggles
Two Aprons
0000000
0000000