Mountable Cable Ties
Screw-in mount ties require a fastener. Push-in mount ties fit into a drilled hole. Through-hole mount ties include a separate head and strap. Thread the strap through a drilled hole and secure the head on the other side. The head can be positioned above or below the surface.
Narrow ties are highly flexible and conform to irregularly shaped material better than standard, wide, and extra-wide cable ties.
Standard ties balance flexibility and strength, making them good for most bundling applications.
Wide and extra wide ties are stronger but less flexible than our narrow and standard cable ties. Use them for heavy duty applications that require extra strength.
Screw-In Mount—Nylon Plastic

Lg.

For

Max.


Bundle


Dia.

Breaking


Strength,




lbs.

Wd.

Thick.

For
Screw
Size

For
Use
Outdoors
Specifications
Met

Temp.




Range,




°F

Pkg.




Qty.

Pkg.

Narrow

4

1/2

"

3/4

"
10
0.10"
0.04"
No. 4

No
UL 62275 Type 11, UL 94 V-2
32° to 180°
100
000000
000000

Standard

6

1/2

"
1

1/4

"
30
0.14"
0.05"
No. 8

No
UL 62275 Type 11, UL 94 V-2
32° to 180°
100
000000
00000
8

1/2

"
1

3/4

"
50
0.18"
0.05"
No. 10

No
UL 62275 Type 11, UL 94 V-2
32° to 180°
100
000000
00000
11

1/2

"
3"
50
0.18"
0.05"
No. 10

No
UL 94 V-2

32° to 180°
100
000000
00000
15

1/2

"
4"
50
0.18"
0.08"
No. 10

No
UL 62275 Type 11, UL 94 V-2
32° to 180°
50
0000000
00000

Wide

15"
4"
120
0.31"
0.08"

1/4

"

No
UL 62275 Type 11, UL 94 V-2
-40° to 185°
10
000000
00000
22"
6"
120
0.31"
0.08"

1/4

"

No
UL 62275 Type 11, UL 94 V-2
-40° to 185°
10
0000000
00000
29"
8"
120
0.31"
0.08"

1/4

"

No
UL 62275 Type 11, UL 94 V-2
-40° to 185°
10
0000000
00000

Black

Narrow

4

1/2

"

3/4

"
10
0.10"
0.04"
No. 4

No
UL 62275 Type 11, UL 94 V-2
32° to 180°
100
0000000
00000

Standard

6

1/2

"
1

1/4

"
30
0.14"
0.05"
No. 8

No
UL 62275 Type 11, UL 94 V-2
32° to 180°
100
0000000
00000
8

1/2

"
1

3/4

"
50
0.18"
0.05"
No. 10

No
UL 62275 Type 11, UL 94 V-2
32° to 180°
100
0000000
00000
11

1/2

"
3"
50
0.18"
0.05"
No. 10

No
UL 94 V-2

32° to 180°
100
0000000
00000
15

1/2

"
4"
50
0.18"
0.08"
No. 10

No
UL 62275 Type 11, UL 94 V-2
32° to 180°
50
0000000
00000

Wide

15"
4"
120
0.31"
0.08"

1/4

"

No
UL 62275 Type 11, UL 94 V-2
-40° to 185°
10
0000000
00000
22"
6"
120
0.31"
0.08"

1/4

"

No
UL 62275 Type 11, UL 94 V-2
-40° to 185°
10
0000000
00000
29"
8"
120
0.31"
0.08"

1/4

"

No
UL 62275 Type 11, UL 94 V-2
-40° to 185°
10
0000000
00000

Extra Wide

4

1/2

"
1"
Not Rated
0.50"
0.04"
No. 6

No
UL 94 V-2

32° to 180°
10
0000000
00000
6"
1

1/2

"
Not Rated
0.50"
0.04"
No. 6

No
UL 94 V-2

32° to 180°
10
0000000
00000
7

1/2

"
2"
Not Rated
0.50"
0.04"
No. 6

No
UL 94 V-2

32° to 180°
10
0000000
00000
Push-In Mount—Nylon Plastic

Lg.

For

Max.


Bundle

Dia.

Breaking


Strength,




lbs.

Wd.

Thick.

For

Max.


Panel


Thick.

For


Mount.


Hole

Dia.

For
Use
Outdoors
Specifications
Met

Temp.




Range,




°F

Pkg.




Qty.

Pkg.

Standard

8"
1

5/8

"
50
0.19"
0.05"
0.14"
0.25"
No
UL 94 V-2

32° to 180°
100
0000000
000000

Black

Standard

8"
2"
50
0.18"
0.05"
0.28"
0.25"
No
UL 94 V-2

32° to 180°
25
0000000
00000
Through-Hole Mount—Nylon Plastic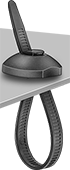 Lg.

For

Max.


Bundle

Dia.

Breaking


Strength,

lbs.

Wd.

Thick.

For

Mount.


Hole

Dia.

For Use
Outdoors
Specifications
Met

Temp.




Range,

°F

Pkg.




Qty.

Pkg.

Standard

15"
4

1/4

"
100
0.22"
0.05"
0.63"
No
UL 94 HB

32° to 180°
10
0000000
000000