Selecting Clamps Using
Pipe,

Conduit,

or Tubing Trade Size
Threaded-Rod-Mount

Clamping Hangers

Hanger

Hanger with
Bolt-Together
Closure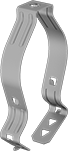 Hanger with
Snap-Together
Closure
Also known as conduit hangers, these hangers load from the bottom so you can add or remove material without uninstalling the hanger. They are molded to fit close around material and provide a more secure hold than loop hangers. All have an unthreaded hole on top for mounting with threaded rod or other fasteners.
Hangers with a snap-together closure are faster and easier to install than bolt-together hangers. They snap close without any additional tools or fasteners, saving you time when installing multiple hangers.
Zinc-plated steel hangers have good corrosion resistance. 304 stainless steel hangers have excellent corrosion resistance. 316 stainless steel hangers have excellent corrosion and chemical resistance.
For technical drawings and 3-D models, click on a part number.
Inch

Metric,


mm
For
Pipe
Size

For
Thread
Size

Cap.,




lbs.

Lg.

Wd.

Ht.

Mounting
Hole


Dia.

Specifications
Met

Pkg.




Qty.

Pkg.

Hanger

13/16

"
21

1/2

1/4

"-20

50

15/16

"

3/4

"
1

15/16

"

1/4

"
C-UL Listed; UL Listed
10
0000000
00000
1

1/16

"
27

3/4

1/4

"-20

50
1

3/16

"

7/8

"
2"

1/4

"
C-UL Listed; UL Listed
10
0000000
0000
1

5/16

"
33
1

1/4

"-20

60
1

3/8

"

7/8

"
2

7/16

"

1/4

"
C-UL Listed; UL Listed
10
0000000
00000
1

1/2

"
38
__

1/4

"-20

70
1

5/8

"

7/8

"
2

5/8

"

1/4

"
C-UL Listed; UL Listed
10
00000000
00000
1

3/4

"
44
1

1/4

1/4

"-20

80
1

7/8

"

7/8

"
2

15/16

"

1/4

"
C-UL Listed; UL Listed
10
0000000
00000
1

7/8

"
48
1

1/2

1/4

"-20

80
2"
1"
3

1/4

"

5/16

"
C-UL Listed; UL Listed
10
0000000
00000
2

3/8

"
60
2

5/16

"-18

100
2

1/2

"
1

1/4

"
3

13/16

"

5/16

"
C-UL Listed; UL Listed
10
0000000
00000
2

7/8

"
73
2

1/2

1/4

"-20

120
3"
1

1/4

"
4

7/16

"

5/16

"
C-UL Listed; UL Listed
10
0000000
00000
3

1/2

"
89
3

5/16

"-18

160
3

5/8

"
1

1/4

"
5

1/8

"

5/16

"
C-UL Listed; UL Listed
5
0000000
00000
4"
102
3

1/2

5/16

"-18

200
4

1/8

"
1

1/4

"
5

3/4

"

5/16

"
C-UL Listed; UL Listed
5
000000
00000
4

1/2

"
114
4

1/2

"-13

230
4

5/8

"
1

3/4

"
7

1/2

"

1/2

"
C-UL Listed; UL Listed
2
0000000
00000

304 Stainless Steel

13/16

"
21

1/2

1/4

"-20

50

15/16

"

3/4

"
1

15/16

"

1/4

"
C-UL Listed; UL Listed
1
0000000
0000
1

1/16

"
27

3/4

1/4

"-20

50
1

3/16

"

7/8

"
2"

1/4

"
C-UL Listed; UL Listed
1
0000000
0000
1

5/16

"
33
1

1/4

"-20

60
1

7/16

"

7/8

"
2

7/16

"

1/4

"
C-UL Listed; UL Listed
1
0000000
0000
1

1/2

"
38
__

1/4

"-20

70
1

5/8

"

7/8

"
2

5/8

"

1/4

"
C-UL Listed; UL Listed
1
00000000
0000
1

3/4

"
44
1

1/4

1/4

"-20

80
1

7/8

"

7/8

"
2

15/16

"

1/4

"
C-UL Listed; UL Listed
1
0000000
0000
1

7/8

"
48
1

1/2

1/4

"-20

80
2"
1"
3

1/4

"

5/16

"
C-UL Listed; UL Listed
1
0000000
0000
2

3/8

"
60
2

5/16

"-18

100
2

1/2

"
1

1/4

"
3

13/16

"

5/16

"
C-UL Listed; UL Listed
1
0000000
00000
2

7/8

"
73
2

1/2

1/4

"-20

120
3"
1

1/4

"
4

7/16

"

5/16

"
C-UL Listed; UL Listed
1
0000000
00000
3

1/2

"
89
3

5/16

"-18

160
3

5/8

"
1

1/4

"
5

1/8

"

5/16

"
C-UL Listed; UL Listed
1
0000000
00000
4"
102
3

1/2

5/16

"-18

200
4

1/8

"
1

1/4

"
5

3/4

"

5/16

"
C-UL Listed; UL Listed
1
0000000
00000
4

1/2

"
114
4

1/2

"-13

230
4

5/8

"
1

3/4

"
7

1/2

"

1/2

"
C-UL Listed; UL Listed
1
0000000
00000
Each

316 Stainless Steel

13/16

"
21

1/2

1/4

"-20

50

15/16

"

3/4

"
1

15/16

"

1/4

"
__
__
00000000
0000
1

1/16

"
27

3/4

1/4

"-20

50
1

1/8

"

7/8

"
2"

1/4

"
__
__
00000000
0000
1

5/16

"
33
1

1/4

"-20

60
1

7/16

"

7/8

"
2

5/16

"

1/4

"
__
__
00000000
0000
1

11/16

"
43
1

1/4

1/4

"-20

70
1

3/4

"

7/8

"
2

3/4

"

1/4

"
__
__
00000000
0000
1

7/8

"
48
1

1/2

1/4

"-20

80
2"
1"
3

1/4

"

5/16

"
__
__
00000000
0000
2

3/8

"
60
2

1/4

"-20

100
2

1/2

"
1

1/4

"
3

3/4

"

5/16

"
__
__
00000000
0000
2

7/8

"
73
2

1/2

3/8

"-16

120
3"
1

1/8

"
4

3/4

"

3/8

"
UL Listed

__
00000000
0000
3

1/2

"
89
3

3/8

"-16

160
3

11/16

"
1

3/16

"
5

7/16

"

3/8

"
UL Listed

__
00000000
00000
4

1/2

"
114
4

3/8

"-16

230
4

11/16

"
1

1/4

"
6

5/16

"

3/8

"
UL Listed

__
00000000
00000

Pkg.

Steel

11/16

"
17

3/8

__
20
1

3/4

"

5/8

"
1

3/4

"

1/4

"
C-UL Listed; UL Listed
10
00000000
0000
1

1/16

"
27

1/2

,

3/4

__
20
2

1/4

"

5/8

"
2"

1/4

"
C-UL Listed; UL Listed
10
00000000
0000
1

5/16

"
33
1

__
20
1

3/4

"

5/8

"
2

5/8

"

1/4

"
C-UL Listed; UL Listed
10
00000000
0000
1

1/2

"
38
1

1/4

__
20
1

7/8

"

5/8

"
2

3/4

"

1/4

"
C-UL Listed; UL Listed
10
00000000
00000
1

3/4

"
44
1

1/2

__
20
2

1/4

"

5/8

"
3

1/2

"

1/4

"
C-UL Listed; UL Listed
10
00000000
00000
2

3/16

"
56
2

__
20
2

3/8

"

5/8

"
4

1/8

"

1/4

"
C-UL Listed; UL Listed
10
00000000
00000

Hanger with Closure Bolt and Nut

13/16

"
21

1/2

1/4

"-20

50

15/16

"

3/4

"
1

15/16

"

1/4

"
C-UL Listed; UL Listed
10
0000000
00000
1

1/16

"
27

3/4

1/4

"-20

50
1

3/16

"

7/8

"
2"

1/4

"
C-UL Listed; UL Listed
10
0000000
00000
1

5/16

"
33
1

1/4

"-20

60
1

3/8

"

7/8

"
2

7/16

"

1/4

"
C-UL Listed; UL Listed
10
0000000
00000
1

1/2

"
38
__

1/4

"-20

70
1

5/8

"

7/8

"
2

5/8

"

1/4

"
C-UL Listed; UL Listed
10
00000000
00000
1

3/4

"
44
1

1/4

1/4

"-20

80
1

7/8

"

7/8

"
2

15/16

"

1/4

"
C-UL Listed; UL Listed
10
0000000
00000
1

7/8

"
48
1

1/2

1/4

"-20

80
2"
1"
3

1/4

"

5/16

"
C-UL Listed; UL Listed
10
0000000
00000
2

3/8

"
60
2

5/16

"-18

100
2

1/2

"
1

1/4

"
3

13/16

"

5/16

"
C-UL Listed; UL Listed
10
0000000
00000
2

7/8

"
73
2

1/2

1/4

"-20

120
3"
1

1/4

"
4

7/16

"

5/16

"
C-UL Listed; UL Listed
10
0000000
00000
3

1/2

"
89
3

5/16

"-18

160
3

5/8

"
1

1/4

"
5

1/8

"

5/16

"
C-UL Listed; UL Listed
5
0000000
00000
4"
102
3

1/2

5/16

"-18

200
4

1/8

"
1

1/4

"
5

3/4

"

5/16

"
C-UL Listed; UL Listed
5
0000000
00000
4

1/2

"
114
4

1/2

"-13

230
4

5/8

"
1

3/4

"
7

1/2

"

1/2

"
C-UL Listed; UL Listed
2
0000000
00000

304 Stainless Steel

13/16

"
21

1/2

1/4

"-20

50

15/16

"

3/4

"
1

15/16

"

1/4

"
C-UL Listed; UL Listed
1
0000000
0000
1

1/16

"
27

3/4

1/4

"-20

50
1

3/16

"

7/8

"
2"

1/4

"
C-UL Listed; UL Listed
1
0000000
0000
1

5/16

"
33
1

1/4

"-20

60
1

7/16

"

7/8

"
2

7/16

"

1/4

"
C-UL Listed; UL Listed
1
0000000
0000
1

1/2

"
38
__

1/4

"-20

70
1

5/8

"

7/8

"
2

5/8

"

1/4

"
C-UL Listed; UL Listed
1
00000000
0000
1

3/4

"
44
1

1/4

1/4

"-20

80
1

7/8

"

7/8

"
2

15/16

"

1/4

"
C-UL Listed; UL Listed
1
000000
0000
1

7/8

"
48
1

1/2

1/4

"-20

80
2"
1"
3

1/4

"

5/16

"
C-UL Listed; UL Listed
1
0000000
0000
2

3/8

"
60
2

5/16

"-18

100
2

1/2

"
1

1/4

"
3

13/16

"

5/16

"
C-UL Listed; UL Listed
1
0000000
00000
2

7/8

"
73
2

1/2

1/4

"-20

120
3"
1

1/4

"
4

7/16

"

5/16

"
C-UL Listed; UL Listed
1
0000000
00000
3

1/2

"
89
3

5/16

"-18

160
3

5/8

"
1

1/4

"
5

1/8

"

5/16

"
C-UL Listed; UL Listed
1
0000000
00000
4"
102
3

1/2

5/16

"-18

200
4

1/8

"
1

1/4

"
5

3/4

"

5/16

"
C-UL Listed; UL Listed
1
000000
00000
4

1/2

"
114
4

1/2

"-13

230
4

5/8

"
1

3/4

"
7

1/2

"

1/2

"
C-UL Listed; UL Listed
1
0000000
00000
Each

316 Stainless Steel

13/16

"
21

1/2

1/4

"-20

50

15/16

"

3/4

"
1

15/16

"

1/4

"
__
__
00000000
0000
1

1/16

"
27

3/4

1/4

"-20

50
1

1/8

"

7/8

"
2"

1/4

"
__
__
00000000
0000
1

5/16

"
33
1

1/4

"-20

60
1

7/16

"

7/8

"
2

5/16

"

1/4

"
__
__
00000000
0000
1

11/16

"
43
1

1/4

1/4

"-20

70
1

3/4

"

7/8

"
2

3/4

"

1/4

"
__
__
00000000
0000
1

7/8

"
48
1

1/2

1/4

"-20

80
2"
1"
3

1/4

"

5/16

"
__
__
00000000
0000
2

3/8

"
60
2

1/4

"-20

100
2

1/2

"
1

1/4

"
3

3/4

"

5/16

"
__
__
00000000
0000
2

7/8

"
73
2

1/2

3/8

"-16

120
3"
1

1/8

"
4

3/4

"

3/8

"
UL Listed

__
00000000
00000
3

1/2

"
89
3

3/8

"-16

160
3

11/16

"
1

3/16

"
5

7/16

"

3/8

"
UL Listed

__
00000000
00000
4

1/2

"
114
4

3/8

"-16

230
4

11/16

"
1

1/4

"
6

5/16

"

3/8

"
UL Listed

__
00000000
00000