Selecting Clamps Using
Pipe,

Conduit,

or Tubing Trade Size
Vibration-Damping

Routing Clamps
A rubber cushion reduces vibration and wear from clamp edges. The cushion also protects lines of pipe, tubing, and conduit from corrosion caused by metal-to-metal contact.
Zinc-plated steel clamps have good corrosion resistance. 304 stainless steel clamps have excellent corrosion resistance.
TPE cushions are for use in chemical environments and can withstand most oils, chemicals, and cleaning solvents. SBR cushions have better vibration and noise control than TPE cushions. They are commonly used in HVAC and plumbing applications and can withstand abrasion, oxidation, and moisture.
For technical drawings and 3-D models, click on a part number.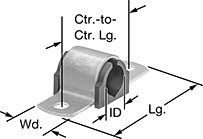 With TPE Rubber Cushion
Inch

Metric,


mm
For
Pipe
Size

Ctr.-to-Ctr.




Lg.

Lg.

Wd.

Ht.

Thick.

Fasteners
Included
Hole


Dia.

Temp.




Range,




°F

For
Use
Outdoors
Each

1/4

"
6
__
1

3/16

"
1

13/16

"

5/8

"

1/2

"

1/16

"
No

17/64

"
-50° to 270°
No
00000000
00000

3/8

"
10
__
1

5/16

"
1

15/16

"

5/8

"

5/8

"

1/16

"
No

17/64

"
-50° to 270°
No
00000000
0000

1/2

"
13

1/8

1

11/16

"
2

1/4

"

3/4

"

13/16

"

1/16

"
No

17/64

"
-50° to 270°
No
00000000
0000

5/8

"
16

1/4

1

11/16

"
2

5/16

"

3/4

"

15/16

"

1/16

"
No

17/64

"
-50° to 270°
No
00000000
0000

3/4

"
19

3/8

1

13/16

"
2

7/16

"

3/4

"
1

1/16

"

1/16

"
No

17/64

"
-50° to 270°
No
00000000
0000

7/8

"
22

1/2

2

1/16

"
2

5/8

"

3/4

"
1

1/8

"

1/16

"
No

17/64

"
-50° to 270°
No
00000000
0000
1"
25
__
2

1/16

"
2

11/16

"

3/4

"
1

1/4

"

1/16

"
No

17/64

"
-50° to 270°
No
00000000
0000
1

1/16

"
27

3/4

2

1/4

"
2

15/16

"

3/4

"
1

7/16

"

1/16

"
No

17/64

"
-50° to 270°
No
00000000
0000
1

1/8

"
29

3/4

2

5/16

"
2

15/16

"

3/4

"
1

7/16

"

1/16

"
No

17/64

"
-50° to 270°
No
00000000
0000
1

1/4

"
32
__
2

3/8

"
3"
1

1/4

"
1

5/8

"

1/16

"
No

17/64

"
-50° to 270°
No
00000000
0000
1

5/16

"
33
1

2

1/2

"
3

3/16

"
1

1/4

"
1

11/16

"

5/64

"
No

17/64

"
-50° to 270°
No
00000000
0000
1

3/8

"
35
__
2

9/16

"
3

3/16

"
1

1/4

"
1

11/16

"

5/64

"
No

17/64

"
-50° to 275°
Yes
00000000
0000
1

1/2

"
38
__
2

3/4

"
3

1/4

"
1

1/4

"
1

7/8

"

5/64

"
No

17/64

"
-50° to 270°
No
00000000
0000
1

5/8

"
41
__
2

7/8

"
3

3/8

"
1

1/4

"
2"

5/64

"
No

17/64

"
-50° to 270°
No
00000000
0000
1

11/16

"
43
1

1/4

3

1/8

"
3

15/16

"
1

1/4

"
2

1/8

"

7/64

"
No

11/32

"
-50° to 270°
No
00000000
0000
1

3/4

"
44
1

1/4

3

1/8

"
3

15/16

"
1

1/4

"
2

1/8

"

7/64

"
No

11/32

"
-50° to 270°
No
00000000
0000
1

7/8

"
48
1

1/2

3

5/16

"
4

1/16

"
1

1/4

"
2

1/4

"

7/64

"
No

11/32

"
-50° to 270°
No
00000000
0000
2"
51
1

1/2

3

3/8

"
4

3/16

"
1

1/4

"
2

3/8

"

7/64

"
No

11/32

"
-50° to 270°
No
00000000
0000
2

1/8

"
54
__
3

3/4

"
4

7/16

"
1

1/4

"
2

5/8

"

7/64

"
No

11/32

"
-50° to 270°
No
00000000
0000
2

3/8

"
60
2

3

7/8

"
4

11/16

"
1

1/4

"
2

7/8

"

7/64

"
No

11/32

"
-50° to 275°
No
00000000
00000
2

1/2

"
64
2

4"
4

13/16

"
1

1/4

"
3"

7/64

"
No

11/32

"
-50° to 275°
No
00000000
00000
2

5/8

"
67
__
4

1/8

"
4

15/16

"
1

1/4

"
3

1/8

"

7/64

"
No

11/32

"
-50° to 275°
No
00000000
00000
2

7/8

"
73
2

1/2

4

3/8

"
5

3/16

"
1

1/4

"
3

3/8

"

7/64

"
No

11/32

"
-50° to 275°
No
00000000
00000
3

1/8

"
79
__
4

5/8

"
5

7/16

"
1

1/4

"
3

11/16

"

5/32

"
No

11/32

"
-50° to 275°
No
00000000
00000
3

1/2

"
89
3

5"
5

13/16

"
1

1/4

"
4

1/16

"

5/32

"
No

11/32

"
-50° to 275°
No
00000000
00000
3

5/8

"
92
3

5

1/8

"
5

15/16

"
1

1/4

"
4

3/16

"

5/32

"
No

11/32

"
-50° to 275°
No
00000000
00000
4"
102
3

1/2

5

5/8

"
6

7/16

"
1

1/4

"
4

11/16

"

5/32

"
No

11/32

"
-50° to 275°
No
00000000
00000
4

1/8

"
105
3

1/2

6

1/8

"
7

1/8

"
1

1/4

"
4

13/16

"

3/16

"
No

7/16

"
-50° to 275°
No
00000000
00000
4

1/2

"
114
4

6

1/2

"
7

1/2

"
1

1/4

"
5

1/4

"

3/16

"
No

7/16

"
-50° to 275°
No
00000000
00000
5

1/8

"
130
__
7

1/8

"
7

13/16

"
1

1/4

"
5

13/16

"

3/16

"
No

7/16

"
-50° to 275°
No
00000000
00000
5

9/16

"
141
5

8"
9

3/16

"
1

1/4

"
6

5/16

"

3/16

"
No

9/16

"
-50° to 275°
No
00000000
000000
6

1/8

"
156
__
8

5/8

"
9

13/16

"
1

1/4

"
6

7/8

"

1/4

"
No

9/16

"
-50° to 275°
No
00000000
000000
6

5/8

"
168
6

9

1/8

"
10

5/16

"
1

1/4

"
7

3/8

"

1/4

"
No

9/16

"
-50° to 275°
No
00000000
000000

304 Stainless Steel

1/4

"
6
__
1

3/16

"
1

13/16

"

5/8

"

1/2

"

1/16

"
No

17/64

"
-50° to 270°
Yes
00000000
0000

3/8

"
10
__
1

5/16

"
1

15/16

"

5/8

"

5/8

"

1/16

"
No

17/64

"
-50° to 270°
Yes
00000000
0000

1/2

"
13

1/8

1

11/16

"
2

1/4

"

3/4

"

13/16

"

1/16

"
No

17/64

"
-50° to 270°
Yes
00000000
0000

5/8

"
16

1/4

1

11/16

"
2

5/16

"

3/4

"

15/16

"

1/16

"
No

17/64

"
-50° to 270°
Yes
00000000
0000

3/4

"
19

3/8

1

13/16

"
2

7/16

"

3/4

"
1

1/16

"

1/16

"
No

17/64

"
-50° to 270°
Yes
00000000
0000

7/8

"
22

1/2

2

1/16

"
2

5/8

"

3/4

"
1

1/8

"

1/16

"
No

17/64

"
-50° to 270°
Yes
00000000
0000
1"
25
__
2

1/16

"
2

11/16

"

3/4

"
1

1/4

"

1/16

"
No

17/64

"
-50° to 270°
Yes
00000000
0000
1

1/16

"
27

3/4

2

1/4

"
2

15/16

"

3/4

"
1

7/16

"

1/16

"
No

17/64

"
-50° to 270°
Yes
00000000
0000
1

1/8

"
29

3/4

2

5/16

"
2

15/16

"

3/4

"
1

7/16

"

1/16

"
No

17/64

"
-50° to 270°
Yes
00000000
0000
1

1/4

"
32
__
2

3/8

"
3"
1

1/4

"
1

5/8

"

5/64

"
No

17/64

"
-50° to 270°
Yes
00000000
0000
1

5/16

"
33
1

2

1/2

"
3

3/16

"
1

1/4

"
1

11/16

"

5/64

"
No

17/64

"
-50° to 270°
Yes
00000000
0000
1

3/8

"
35
__
2

9/16

"
1

11/16

"
1

1/4

"
1

3/4

"

5/64

"
No

17/64

"
-50° to 275°
Yes
00000000
0000
1

1/2

"
38
__
2

3/4

"
3

1/4

"
1

1/4

"
1

7/8

"

5/64

"
No

17/64

"
-50° to 270°
Yes
00000000
0000
1

5/8

"
41
__
2

7/8

"
3

3/8

"
1

1/4

"
2"

5/64

"
No

17/64

"
-50° to 270°
Yes
00000000
0000
1

11/16

"
43
1

1/4

3

1/8

"
3

15/16

"
1

1/4

"
2

1/8

"

7/64

"
No

11/32

"
-50° to 270°
Yes
00000000
00000
1

3/4

"
44
1

1/4

3

1/8

"
3

15/16

"
1

1/4

"
2

1/8

"

7/64

"
No

11/32

"
-50° to 270°
Yes
00000000
00000
1

7/8

"
48
1

1/2

3

5/16

"
4

1/16

"
1

1/4

"
2

1/4

"

7/64

"
No

11/32

"
-50° to 270°
Yes
00000000
00000
2"
51
1

1/2

3

3/8

"
4

3/16

"
1

1/4

"
2

3/8

"

7/64

"
No

11/32

"
-50° to 270°
Yes
00000000
00000
2

1/8

"
54
__
3

3/4

"
4

7/16

"
1

1/4

"
2

5/8

"

7/64

"
No

11/32

"
-50° to 270°
Yes
00000000
00000
2

3/8

"
60
2

3

7/8

"
4

11/16

"
1

1/4

"
2

7/8

"

7/64

"
No

11/32

"
-50° to 275°
Yes
00000000
00000
2

1/2

"
64
2

4"
4

13/16

"
1

1/4

"
3"

7/64

"
No

11/32

"
-50° to 275°
Yes
00000000
00000
2

5/8

"
67
__
4

1/8

"
4

15/16

"
1

1/4

"
3

1/8

"

7/64

"
No

11/32

"
-50° to 275°
Yes
00000000
00000
2

7/8

"
73
2

1/2

4

3/8

"
5

3/16

"
1

1/4

"
3

3/8

"

7/64

"
No

11/32

"
-50° to 275°
Yes
00000000
00000
3

1/8

"
79
__
4

5/8

"
5

7/16

"
1

1/4

"
3

11/16

"

5/32

"
No

11/32

"
-50° to 275°
Yes
00000000
00000
3

1/2

"
89
3

5"
5

13/16

"
1

1/4

"
4

1/16

"

5/32

"
No

11/32

"
-50° to 275°
Yes
00000000
00000
3

5/8

"
92
3

5

1/8

"
5

15/16

"
1

1/4

"
4

3/16

"

5/32

"
No

11/32

"
-50° to 275°
Yes
00000000
000000
4"
102
3

1/2

5

5/8

"
6

7/16

"
1

1/4

"
4

11/16

"

5/32

"
No

11/32

"
-50° to 275°
Yes
00000000
000000
4

1/8

"
105
3

1/2

6

1/8

"
7

1/8

"
1

1/4

"
4

13/16

"

3/16

"
No

7/16

"
-50° to 275°
Yes
00000000
000000
4

1/2

"
114
4

6

1/2

"
7

1/2

"
1

1/4

"
5

1/4

"

3/16

"
No

7/16

"
-50° to 275°
Yes
00000000
000000
5

1/8

"
130
__
7

1/8

"
7

13/16

"
1

1/4

"
5

13/16

"

3/16

"
No

7/16

"
-50° to 275°
Yes
00000000
000000
5

9/16

"
141
5

8"
9

3/16

"
1

1/4

"
6

5/16

"

3/16

"
No

9/16

"
-50° to 275°
Yes
00000000
000000
6

1/8

"
156
__
8

5/8

"
9

13/16

"
1

1/4

"
6

7/8

"

1/4

"
No

9/16

"
-50° to 275°
Yes
00000000
000000
6

5/8

"
168
6

9

1/8

"
10

5/16

"
1

1/4

"
7

3/8

"

1/4

"
No

9/16

"
-50° to 275°
Yes
00000000
000000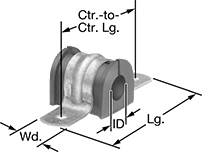 With SBR Rubber Cushion
Inch

Metric,


mm
For
Pipe
Size

Ctr.-to-Ctr.




Lg.

Lg.

Wd.

Ht.

Thick.

Fasteners
Included
Hole


Dia.

Temp.




Range,




°F

For
Use
Outdoors
Each

1/4

"
6
__
1

11/16

"
2

7/16

"

5/8

"

7/8

"

1/32

"
No

3/16

"
-60° to 220°
No
0000000
00000

3/8

"
10
__
1

11/16

"
2

7/16

"

5/8

"

7/8

"

1/32

"
No

3/16

"
-60° to 220°
No
0000000
0000

1/2

"
13

1/8

1

11/16

"
2

7/16

"

5/8

"

7/8

"

1/32

"
No

3/16

"
-60° to 220°
No
0000000
0000

9/16

"
14

1/4

1

11/16

"
2

7/16

"

5/8

"

7/8

"

1/32

"
No

3/16

"
-60° to 220°
No
0000000
0000

5/8

"
16

1/4

1

11/16

"
2

7/16

"

5/8

"

7/8

"

1/32

"
No

3/16

"
-60° to 220°
No
0000000
0000

11/16

"
17

3/8

1

11/16

"
2

7/16

"

5/8

"

7/8

"

1/32

"
No

3/16

"
-60° to 220°
No
0000000
0000

3/4

"
19

3/8

1

11/16

"
2

7/16

"

5/8

"

7/8

"

1/32

"
No

3/16

"
-60° to 220°
No
0000000
0000

13/16

"
21

1/2

2

1/2

"
3

3/8

"

3/4

"
1

5/16

"

1/16

"
No

1/4

"
-60° to 220°
No
0000000
0000

7/8

"
22

1/2

2

1/2

"
3

3/8

"

3/4

"
1

5/16

"

1/16

"
No

1/4

"
-60° to 220°
No
0000000
0000
1"
25
__
2

1/2

"
3

3/8

"

3/4

"
1

1/4

"

1/16

"
No

1/4

"
-60° to 220°
No
0000000
0000
1

1/16

"
27

3/4

2

1/2

"
3

3/8

"

3/4

"
1

1/4

"

1/16

"
No

1/4

"
-60° to 220°
No
0000000
0000
1

1/8

"
29

3/4

4

1/4

"
4

3/4

"
1

1/4

"
2

3/8

"

1/16

"
No

1/4

"
-60° to 220°
No
0000000
00000
1

1/4

"
32
__
4

1/4

"
4

3/4

"
1

1/4

"
2

3/8

"

1/16

"
No

1/4

"
-60° to 220°
No
0000000
00000
1

5/16

"
33
1

4

1/4

"
4

3/4

"
1

1/4

"
2

3/8

"

1/16

"
No

1/4

"
-60° to 220°
No
0000000
00000
1

3/8

"
35
1

4

1/4

"
4

3/4

"
1

1/4

"
2

3/8

"

1/16

"
No

1/4

"
-60° to 220°
No
0000000
00000
1

1/2

"
38
__
4

1/4

"
4

3/4

"
1

1/4

"
2

3/8

"

1/16

"
No

1/4

"
-60° to 220°
No
0000000
00000
1

5/8

"
41
__
4

1/4

"
4

3/4

"
1

1/4

"
2

3/8

"

1/16

"
No

1/4

"
-60° to 220°
No
0000000
00000
1

11/16

"
43
1

1/4

4

1/4

"
4

3/4

"
1

1/4

"
2

3/8

"

1/16

"
No

1/4

"
-60° to 220°
No
0000000
00000
1

3/4

"
44
1

1/4

4

1/4

"
4

3/4

"
1

1/4

"
2

3/8

"

1/16

"
No

1/4

"
-60° to 220°
No
0000000
00000
1

7/8

"
48
1

1/2

4

1/4

"
4

3/4

"
1

1/4

"
2

3/8

"

1/16

"
No

1/4

"
-60° to 220°
No
0000000
00000
2"
51
1

1/2

4

1/4

"
4

3/4

"
1

1/4

"
2

3/8

"

1/16

"
No

1/4

"
-60° to 220°
No
0000000
00000
2

1/8

"
54
__
4

1/4

"
4

3/4

"
1

1/4

"
2

3/8

"

1/16

"
No

1/4

"
-60° to 220°
No
0000000
00000

304 Stainless Steel

1/4

"
6
__
1

13/16

"
2

7/16

"

5/8

"

7/8

"

1/32

"
No

3/16

"
-60° to 220°
No
0000000
0000

3/8

"
10
__
1

13/16

"
2

7/16

"

5/8

"

7/8

"

1/32

"
No

3/16

"
-60° to 220°
No
0000000
0000

1/2

"
13

1/8

1

13/16

"
2

7/16

"

5/8

"

7/8

"

1/32

"
No

3/16

"
-60° to 220°
No
0000000
0000

9/16

"
14

1/4

1

13/16

"
2

7/16

"

5/8

"

7/8

"

1/32

"
No

3/16

"
-60° to 220°
No
0000000
0000

5/8

"
16

1/4

1

13/16

"
2

7/16

"

5/8

"

7/8

"

1/32

"
No

3/16

"
-60° to 220°
No
0000000
0000

11/16

"
17

3/8

1

13/16

"
2

7/16

"

5/8

"

7/8

"

1/32

"
No

3/16

"
-60° to 220°
No
0000000
0000

3/4

"
19

3/8

1

13/16

"
2

7/16

"

5/8

"

7/8

"

1/32

"
No

3/16

"
-60° to 220°
No
0000000
0000

13/16

"
21

1/2

2

1/2

"
3

3/8

"

3/4

"
1

5/16

"

1/16

"
No

1/4

"
-60° to 220°
No
0000000
00000

7/8

"
22

1/2

2

1/2

"
3

3/8

"

3/4

"
1

5/16

"

1/16

"
No

1/4

"
-60° to 220°
No
0000000
00000
1"
25
__
2

1/2

"
3

3/8

"

3/4

"
1

1/4

"

1/16

"
No

1/4

"
-60° to 220°
No
0000000
00000
1

1/16

"
27

3/4

2

1/2

"
3

3/8

"

3/4

"
1

1/4

"

1/16

"
No

1/4

"
-60° to 220°
No
0000000
00000
1

1/8

"
29

3/4

4

1/4

"
4

3/4

"
1

1/4

"
2

3/8

"

1/16

"
No

1/4

"
-60° to 220°
No
0000000
00000
1

1/4

"
32
__
4

1/4

"
4

3/4

"
1

1/4

"
2

3/8

"

1/16

"
No

1/4

"
-60° to 220°
No
0000000
00000
1

5/16

"
33
1

4

1/4

"
4

3/4

"
1

1/4

"
2

3/8

"

1/16

"
No

1/4

"
-60° to 220°
No
0000000
00000
1

3/8

"
35
1

4

1/4

"
4

3/4

"
1

1/4

"
2

3/8

"

1/16

"
No

1/4

"
-60° to 220°
No
0000000
00000
1

1/2

"
38
__
4

1/4

"
4

3/4

"
1

1/4

"
2

3/8

"

1/16

"
No

1/4

"
-60° to 220°
No
0000000
00000
1

5/8

"
41
__
4

1/4

"
4

3/4

"
1

1/4

"
2

3/8

"

1/16

"
No

1/4

"
-60° to 220°
No
0000000
00000
1

11/16

"
43
1

1/4

4

1/4

"
4

3/4

"
1

1/4

"
2

3/8

"

1/16

"
No

1/4

"
-60° to 220°
No
0000000
00000
1

3/4

"
44
1

1/4

4

1/4

"
4

3/4

"
1

1/4

"
2

3/8

"

1/16

"
No

1/4

"
-60° to 220°
No
0000000
00000
1

7/8

"
48
1

1/2

4

1/4

"
4

3/4

"
1

1/4

"
2

3/8

"

1/16

"
No

1/4

"
-60° to 220°
No
0000000
00000
2"
51
1

1/2

4

1/4

"
4

3/4

"
1

1/4

"
2

3/8

"

1/16

"
No

1/4

"
-60° to 220°
No
0000000
00000
2

1/8

"
54
__
4

1/4

"
4

3/4

"
1

1/4

"
2

3/8

"

1/16

"
No

1/4

"
-60° to 220°
No
0000000
00000