Selecting
U-Bolts

Using

Pipe,

Conduit,

or Tubing Trade Size
Vibration-Damping
U-Bolts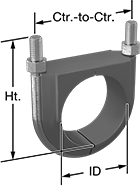 Reduce vibration and noise in your lines—a plastic cushion tightly grips pipe, tubing, and conduit to prevent movement. All have nylon-insert locknuts, which grip the thread to resist loosening without damaging threads. Use to support heavy pipe, tube, and conduit from ceilings, walls, and poles.
Zinc-plated steel U-bolts have good corrosion resistance in most environments. 316 stainless steel U-bolts have excellent corrosion resistance and chemical resistance.
For technical drawings and 3-D models, click on a part number.
Inch

Metric,


mm
For Pipe
Size

Ht.

Thread


Lg.

Capacity,




lbs.

Ctr.-to-Ctr.

No.

of Nuts
Included

Temp.




Range,

°F

Each

Zinc Plated Steel

1/4"-20

Thread Size

13/16

"
21

1/2

1

15/16

"
1"
475
1

5/8

"
2
-65° to 340°
00000000
000000

13/16

"
21

1/2

1

15/16

"
1"
475
1

5/8

"
2
-50° to 275°
0000000
0000

7/8

"
22

1/2

1

15/16

"
1"
475
1

5/8

"
2
-65° to 340°
00000000
00000

7/8

"
22

1/2

1

15/16

"
1"
475
1

5/8

"
2
-50° to 275°
0000000
0000
1"
25
__
2

1/8

"
1"
475
1

13/16

"
2
-65° to 340°
00000000
00000
1"
25
__
2

1/8

"
1"
475
1

13/16

"
2
-50° to 275°
0000000
0000
1

1/16

"
27

3/4

2

1/8

"
1"
475
1

13/16

"
2
-65° to 340°
0000000
00000
1

1/16

"
27

3/4

2

1/8

"
1"
475
1

13/16

"
2
-50° to 275°
0000000
0000
1

1/4

"
32
__
2

3/8

"
1"
475
2

1/16

"
2
-65° to 340°
00000000
00000
1

1/4

"
32
__
2

3/8

"
1"
475
2

1/16

"
2
-50° to 275°
0000000
0000
1

5/16

"
33
1

2

3/8

"
1"
475
2

1/16

"
2
-65° to 340°
00000000
00000
1

5/16

"
33
1

2

3/8

"
1"
475
2

1/16

"
2
-50° to 275°
0000000
0000
1

3/8

"
35
1

2

7/16

"
1"
475
2

1/16

"
2
-50° to 275°
0000000
0000

3/8"-16

Thread Size

1

11/16

"
43
1

1/4

2

15/16

"
1

1/4

"
1,200
2

9/16

"
2
-65° to 340°
00000000
00000
1

11/16

"
43
1

1/4

2

15/16

"
1

1/4

"
1,200
2

9/16

"
2
-50° to 275°
0000000
00000
1

7/8

"
48
1

1/2

3

3/16

"
1

1/4

"
1,200
2

13/16

"
2
-65° to 340°
00000000
00000
1

7/8

"
48
1

1/2

3

3/16

"
1

1/4

"
1,200
2

13/16

"
2
-50° to 275°
0000000
00000
2"
51
1

1/2

3

3/16

"
1

3/16

"
1,200
2

13/16

"
2
-65° to 340°
00000000
00000
2"
51
1

1/2

3

3/16

"
1

3/16

"
1,200
2

13/16

"
2
-50° to 275°
0000000
00000
2

3/8

"
60
2

3

11/16

"
1

1/4

"
1,200
3

3/8

"
2
-65° to 340°
00000000
00000
2

3/8

"
60
2

3

11/16

"
1

1/4

"
1,200
3

3/8

"
2
-50° to 275°
0000000
00000

1/2"-13

Thread Size

2

7/8

"
73
2

1/2

4

7/16

"
1

7/16

"
2,250
3

7/8

"
2
-65° to 340°
00000000
00000
2

7/8

"
73
2

1/2

4

7/16

"
1

7/16

"
2,250
3

7/8

"
2
-50° to 275°
0000000
00000
3"
76
2

1/2

4

1/2

"
1

3/8

"
2,250
3

7/8

"
2
-65° to 340°
0000000
00000
3"
76
2

1/2

4

1/2

"
1

3/8

"
2,250
3

7/8

"
2
-50° to 275°
0000000
00000
3

1/2

"
89
3

5

1/16

"
1

7/16

"
2,250
4

9/16

"
2
-65° to 340°
00000000
00000
3

1/2

"
89
3

5

1/16

"
1

7/16

"
2,250
4

9/16

"
2
-50° to 275°
0000000
00000
4"
102
3

1/2

5

3/4

"
1

1/2

"
2,250
5"
2
-50° to 275°
0000000
00000
4"
102
3

1/2

5

3/4

"
1

1/2

"
2,250
5

1/16

"
2
-65° to 340°
00000000
00000
4

1/2

"
114
4

6

3/16

"
1

1/2

"
2,250
5

1/2

"
2
-65° to 340°
00000000
00000
4

1/2

"
114
4

6

3/16

"
1

1/2

"
2,250
5

1/2

"
2
-50° to 275°
0000000
00000
5"
127
__
7"
1

5/8

"
2,250
6

9/16

"
2
-65° to 340°
00000000
00000
5"
127
__
7"
1

5/8

"
2,250
6

9/16

"
2
-50° to 275°
0000000
00000
5

9/16

"
141
5

7

5/16

"
1

5/8

"
2,250
6

9/16

"
2
-65° to 340°
00000000
00000
5

9/16

"
141
5

7

5/16

"
1

5/8

"
2,250
6

9/16

"
2
-50° to 275°
0000000
00000

5/8"-11

Thread Size

6"
152
__
8

3/8

"
2"
3,600
7

3/4

"
2
-65° to 340°
00000000
00000
6"
152
__
8

3/8

"
2"
3,600
7

3/4

"
2
-50° to 275°
0000000
00000
6

5/8

"
168
6

8

3/4

"
2"
3,600
7

3/4

"
2
-65° to 340°
00000000
00000
6

5/8

"
168
6

8

3/4

"
2"
3,600
7

3/4

"
2
-50° to 275°
0000000
00000
8

5/8

"
219
8

10

3/4

"
2"
3,600
9

13/16

"
2
-50° to 275°
0000000
00000

3/4"-10

Thread Size

10

3/4

"
273
10

13

1/16

"
2

3/16

"
5,400
12

3/16

"
2
-50° to 275°
0000000
000000
12

3/4

"
324
12

15

1/16

"
2

3/16

"
5,400
14

1/4

"
2
-50° to 275°
0000000
000000

316 Stainless Steel

1/4"-20

Thread Size

13/16

"
21

1/2

1

15/16

"
1"
475
1

5/8

"
2
-65° to 340°
00000000
00000

13/16

"
21

1/2

1

15/16

"
1"
475
1

5/8

"
2
-50° to 275°
0000000
00000

7/8

"
22

1/2

1

15/16

"
1"
475
1

5/8

"
2
-65° to 340°
00000000
00000

7/8

"
22

1/2

1

15/16

"
1"
475
1

5/8

"
2
-50° to 275°
0000000
00000
1"
25
__
2

1/8

"
1"
475
1

13/16

"
2
-65° to 340°
0000000
00000
1"
25
__
2

1/8

"
1"
475
1

13/16

"
2
-50° to 275°
000000
00000
1

1/16

"
27

3/4

2

1/8

"
1"
475
1

13/16

"
2
-65° to 340°
00000000
00000
1

1/16

"
27

3/4

2

1/8

"
1"
475
1

13/16

"
2
-50° to 275°
0000000
00000
1

1/4

"
32
__
2

3/8

"
1"
475
2

1/16

"
2
-65° to 340°
00000000
00000
1

1/4

"
32
__
2

3/8

"
1"
475
2

1/16

"
2
-50° to 275°
0000000
00000
1

5/16

"
33
1

2

3/8

"
1"
475
2

1/16

"
2
-65° to 340°
00000000
00000
1

5/16

"
33
1

2

3/8

"
1"
475
2

1/16

"
2
-50° to 275°
0000000
00000
1

3/8

"
35
1

2

7/16

"
1"
475
2

1/16

"
2
-65° to 340°
00000000
00000
1

3/8

"
35
1

2

7/16

"
1"
475
2

1/16

"
2
-50° to 275°
0000000
00000

3/8"-16

Thread Size

1

11/16

"
43
1

1/4

2

15/16

"
1

1/4

"
1,200
2

9/16

"
2
-65° to 340°
00000000
00000
1

11/16

"
43
1

1/4

2

15/16

"
1

1/4

"
1,200
2

9/16

"
2
-50° to 275°
0000000
00000
1

7/8

"
48
1

1/2

3

3/16

"
1

1/4

"
1,200
2

13/16

"
2
-65° to 340°
00000000
00000
1

7/8

"
48
1

1/2

3

3/16

"
1

1/4

"
1,200
2

13/16

"
2
-50° to 275°
0000000
00000
2"
51
1

1/2

3

3/16

"
1

3/16

"
1,200
2

13/16

"
2
-65° to 340°
00000000
00000
2"
51
1

1/2

3

3/16

"
1

3/16

"
1,200
2

13/16

"
2
-50° to 275°
0000000
00000
2

3/8

"
60
2

3

11/16

"
1

1/4

"
1,200
3

3/8

"
2
-65° to 340°
0000000
00000
2

3/8

"
60
2

3

11/16

"
1

1/4

"
1,200
3

3/8

"
2
-50° to 275°
0000000
00000

1/2"-13

Thread Size

2

7/8

"
73
2

1/2

4

7/16

"
1

7/16

"
2,250
3

7/8

"
2
-65° to 340°
00000000
00000
2

7/8

"
73
2

1/2

4

7/16

"
1

7/16

"
2,250
3

7/8

"
2
-50° to 275°
0000000
00000
3"
76
2

1/2

4

1/2

"
1

3/8

"
2,250
3

7/8

"
2
-65° to 340°
00000000
00000
3"
76
2

1/2

4

1/2

"
1

3/8

"
2,250
3

7/8

"
2
-50° to 275°
0000000
00000
3

1/2

"
89
3

5

1/16

"
1

7/16

"
2,250
4

9/16

"
2
-65° to 340°
00000000
00000
3

1/2

"
89
3

5

1/16

"
1

7/16

"
2,250
4

9/16

"
2
-50° to 275°
0000000
00000
4"
102
3

1/2

5

3/4

"
1

1/2

"
2,250
5"
2
-50° to 275°
0000000
00000
4"
102
3

1/2

5

3/4

"
1

1/2

"
2,250
5

1/16

"
2
-65° to 340°
00000000
00000
4

1/2

"
114
4

6

3/16

"
1

1/2

"
2,250
5

1/2

"
2
-65° to 340°
00000000
00000
4

1/2

"
114
4

6

3/16

"
1

1/2

"
2,250
5

1/2

"
2
-50° to 275°
0000000
00000
5"
127
__
7"
1

5/8

"
2,250
6

9/16

"
2
-50° to 275°
0000000
00000
5

9/16

"
141
5

7

5/16

"
1

5/8

"
2,250
6

9/16

"
2
-65° to 340°
00000000
00000
5

9/16

"
141
5

7

5/16

"
1

5/8

"
2,250
6

9/16

"
2
-50° to 275°
0000000
00000

5/8"-11

Thread Size