Angle Transfers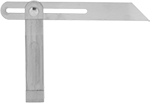 Duplicate or transfer any angle. Adjust the blades to an angle and tighten the nut to lock them in place. These transfers are also known as bevel squares and sliding bevels.
Lg.

Wd.

Material

Lg.

Material
Each
10"
1

1/8

"
Stainless Steel
5

1/2

"
Wood
000000
000000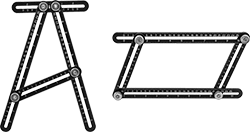 Shown in Multiple Configurations
Transfer multiple angles, draw parallel lines, or create a template to make repeated patterns and measurements. Adjust the four arms on these transfers to the desired shape, and tighten the nuts to lock them in place. They're often used as layouts for stairs and window sills or patterns in tile.
Number
of Arms
Arm

Lg.

Numeric
Increments

Wd.

Material
Color
Graduation
Mark Style
Graduation Marks
Graduation
Color
Each
4
4"/12 cm
10"/25 cm
1"/1 cm
1"/1 cm
1"
Aluminum
Black
Etched
16ths, Millimeters
White
00000000
000000