Clamp Mount

Clamp Mount

Magnet Mount
Mount on the outside of a vehicle for better radio reception.
Cellular Phone Signal Boosters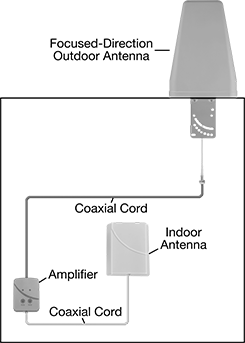 Focused-Direction
Outdoor Antenna
Amplify weak cellular signals, resulting in fewer dropped calls and faster download speeds. Mount the indoor antenna to a wall or ceiling; mount the outdoor antenna to the roof or a wall. These boosters work best with an unobstructed path pointing to the nearest cell tower. They're compatible with all U.S. cellular networks. They cannot be sold to Canada due to product registration requirements.
Antenna
Type
For Telephone
Network System

Max.




Gain,

dB
Plug Type
Cord


Lg.,




ft.

Voltage
Mounting
Hardware
Included
Includes
Cannot
Be
Sold To
Each
Focused Direction
4G
65
Two Prong
6
120V AC
Yes
Indoor Antenna, Outdoor Antenna, Two RG Coaxial Cords (15 ft. Lg. Each), Power Supply, Amplifier (6

1/2

" Ht. x 6" Wd. x 2

5/8

" Dp.)
Canada
0000000
0000000
Measure and track GPS satellite data in vehicle fleets, electronics, precision agriculture, and other applications. For fast and accurate navigation updates, the antenna and receiver connect to multiple satellites at a time. With access to real-time data from the Federal Aviation Administration's Wide Area Augmentation System (WAAS), these sensors track positioning within three meters. They store configuration data even when turned off, so they don't need to be reconfigured when you turn them back on.
Protected by a compact, durable, and lightweight housing, these sensors are good for use in tight spaces. When used outdoors, they'll withstand splashes, rain, and snow. Place them on metal with the magnetic mounting base, fasten them directly to a surface through the threaded hole, or secure them to mounts (sold separately).
Connect sensors with wire leads to a terminal block or connector, or solder them to a circuit board. These sensors use measurement pulse output to precisely keep track of time intervals.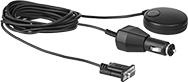 With DB9 and Vehicle Connection Types

With USB Connection Type

With Wire Leads Connection Type
Diameter
Height
Cord


Length,




ft.

Response


Time,




sec.

Data
Output
Format
For
Operating
System
Operating
Temperature


Range,

°F

Mount
Type
Fasteners
Included
For Hole
Thread
Size
Environmental
Rating
Each

Plastic Housing

With DB9 and Vehicle Connection Types

2

1/2

"
1"
6
1
NMEA 0183; Garmin
Windows
-22° to 176°
Threaded Hole
No
M3
IP07
00000000
000000

With USB Connection Type

2

1/2

"
1"
6
1
Garmin
Windows
-22° to 176°
Threaded Hole
No
M3
IP07
00000000
00000

With Wire Leads Connection Type

2

1/2

"
1"
16
0.2
NMEA 0183; Garmin
Windows
-22° to 176°
Threaded Hole
No
M3
IP07
00000000
000000
2

1/2

"
1"
16
1
NMEA 0183; Garmin
Windows
-22° to 176°
Threaded Hole
No
M3
IP07
00000000
00000