Antifreeze/Coolant

Testers

With Ball Floats

With Disc Floats
Floats visually indicate the level of freeze protection in coolant systems. Insert the tube into your coolant tank, squeeze the bulb to draw in coolant, and count the number of buoyant floats. The more buoyant floats, the higher the freeze protection.
Disc floats are larger than ball floats for increased visibility.
Concentration Meters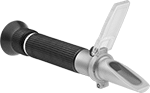 Also known as refractometers, these measure concentration with two or three drops of a solution. Place your sample on the reflecting prism and look through the eyepiece to view the concentration on the internal scale.
Concentration meters with automatic temperature compensation standardize readings at 68° F to prevent inaccurate results in fluctuating temperatures.
Concentration meters with freezing-point scale measure the freezing point of propylene glycol and ethylene glycol as well as the specific gravities of battery acids from 1.15 to 1.30.
Celsius and Fahrenheit Scale Meters
Temperature
Range
Graduation
Marks
Automatic Temperature
Compensation

(ATC)

Range
Specific
Gravity

Lg.

Material
Container
Material
Each

For Testing Freezing Point and Specific Gravity

-60° to 32° F
2° F
50° to 86° F
1.15 to 1.3
7"
Nickel-Plated Brass
Plastic
000000
0000000
-50° to 0° C
1° C
10° to 30° C
1.15 to 1.3
7"
Nickel-Plated Brass
Plastic
000000
000000