Antiseize Lubricant Dispensers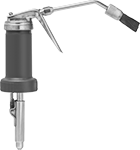 Screw this dispenser to the top of most 8-oz. and 1-lb. brush-top antiseize lubricant cans. It has a trigger and a brush-tip nozzle that allow neat and easy one hand dispensing.
Type
Size
Thread


Dia.

Strokes
per
Ounce
Type

Lg.

Material

O'all




Ht.

Lubricant
Inlet
Gender
Body
Material
Brush


Dia.

Ht.

Material
Replaceable
Each
Brush-Top Can
8 fl. oz., 1 lbs.
1

3/4

"
10
Rigid
4"
Steel
5"
Female
Plastic

1/2

"
1"
Nylon
No
000000
000000
Non-Bonding

Heat Transfer Compounds

Heat Transfer Compound
Also known as thermal paste, these boron-nitride compounds increase heat transfer between parts while preventing them from sticking. Unlike antiseize compounds, they don't conduct electricity, so you won't risk shorting out sensitive electronics. They're often used on thermocouple probes to improve accuracy. You can also use them in 3D printer heating blocks and other high-temperature areas to keep parts from fusing together.
Size,




fl.




oz.

Type
Chemical

Max.




Temp.,




°F

Thermal
Conductivity
Color
Includes
For
Use
On
Compatible
With
Each
0.2
Syringe
Boron Nitride
1562°
31.4 W/m-K @ 212° F
White
Three Applicator Brushes
3D Printer Extruder Heating Elements, Electrical Components
Aluminum, Brass, Copper, Iron, Nickel, Stainless Steel, Steel, Titanium
0000000
000000
1
Syringe
Boron Nitride
1562°
31.4 W/m-K @ 212° F
White
__
3D Printer Extruder Heating Elements, Electrical Components
Aluminum, Brass, Copper, Iron, Nickel, Stainless Steel, Steel, Titanium
0000000
00000