Flexible Aramid Honeycomb Cores

Color:

Orange
Temperature

Range:

-100° to 350° F

Yield

Strength:

Not Rated

For Use

Outdoors:

No
As a strong, lightweight, and buoyant alternative to solid panels, these aramid honeycomb cores are used to make interior wall panels and floor boards in marine, structural, and industrial applications. Compared to aluminum honeycomb cores, they're lightweight and more flexible, so you'll often find them lining boats and high-speed cars. However, they're not as strong as aluminum cores. Aramid cores also resist flames, self-extinguish without melting or dripping, and are thermal and electrical insulators. Aramid is commonly known as Nomex.
Composite Fiber Aramid Honeycomb Panels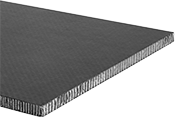 Carbon Fiber Face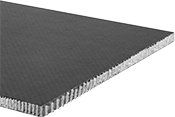 Fiberglass Face
Face

Color:

Black
Temperature

Range:

-100° to 250° F

Yield

Strength:

Not Rated

For Use

Outdoors:

No
With an aramid honeycomb core sandwiched between carbon fiber or fiberglass for rigidity, these panels are strong, but lightweight, and won't conduct heat. Often used as wall panels in structural and insulating applications, they're a lightweight alternative to solid composite and aluminum honeycomb panels.
Carbon-fiber-faced panels are stronger and more rigid than fiberglass-faced panels, so they resist deforming from bending, twisting, or buckling. They will, however, splinter from high-impact blows. These panels are lighter than fiberglass-faced panels. However, they conduct electricity, so don't use them around electrical components.
Fiberglass-faced panels are often used around electrical components because they are good electrical insulators. They resist cracks from bumps and hits better than carbon-fiber-faced panels, but are not as strong or lightweight.