Collet Chucks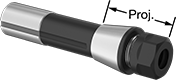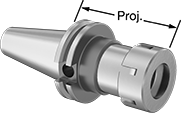 Securely hold collets in the spindle of a milling machine.
Use a nut wrench (sold separately) to tighten the chuck nut and secure the tool bit in the collet.
For technical drawings and 3-D models, click on a part number.
Quick-Change

Tool Holders for Milling Machines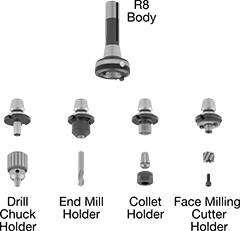 After installing the R8 body in the milling machine spindle, tool holders can be switched out in seconds. To remove a tool holder, depress the brass locking button and rotate the collar on the R8 body. When a new tool holder is inserted, a spring-loaded pin snaps the collar back into the locked position.