System of Measurement

System of Measurement
For Use With

For Use With
Show
For Use With

For Use With
Hide
Warning: Products have one, but not necessarily all, of the selected characteristics.
DFARS (Defense Acquisition Regulations Supplement)

DFARS

(Defense

Acquisition

Regulations

Supplement)
RoHS (Restriction of Hazardous Substances)

RoHS

(Restriction

of
Hazardous

Substances)
REACH (Registration, Evaluation, Authorization and Restriction of Chemicals)

REACH

(Registration,




Evaluation,

Authorization
and Restriction of

Chemicals)
Hole Saws with
Built-In

Arbor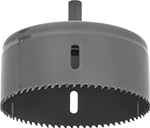 Quickly connect these saws to your drill or drill press with the built-in arbor. Saws have high-speed steel teeth for cutting wood, plastic, and metal. A 1/4" diameter pilot drill is included.
For technical drawings and 3-D models, click on a part number.