System of Measurement

System of Measurement
For Disc Mount Type

For Disc Mount Type
For Use With

For Use With
Show
For Use With

For Use With
Hide
Warning: Products have one, but not necessarily all, of the selected characteristics.
DFARS (Defense Acquisition Regulations Supplement)

DFARS

(Defense

Acquisition
Regulations

Supplement)
Adapters for Sanding Discs
Hook and Loop to Adhesive Back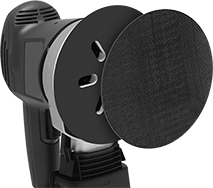 Adhesive Back to Hook and Loop
Swap between hook-and-loop and adhesive-backed sanding discs on one sander. Rather than replace your entire sanding pad, mount these adapters to create a hook-and-loop or adhesive-backed attachment.
Hook and Loop
to Adhesive
Back

Adhesive Back
to Hook
and Loop

Dia.

For Use With
Each
Each
5"
Portable Disc Sanders, Stationary Disc Sanders
0000000
00000
0000000
00000
6"
Portable Disc Sanders, Stationary Disc Sanders
0000000
0000
0000000
0000
11

1/4

"
Portable Disc Sanders, Stationary Disc Sanders
0000000
00000
0000000
00000