About
Copper,

Brass,

and Bronze
Formable
Easy-to-Machine

353 Brass Sheets and Bars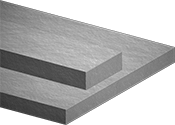 353 brass is more formable than 385 brass while maintaining good machinability. Commonly called engraver's brass, it's well suited for fabrication processes such as knurling and threading. Use it to make nuts, gears, drawer pulls, and hinges.
For technical drawings and 3-D models, click on a part number.

Certificates with a traceable lot number are available for these products. Download certificates from ORDER HISTORY after your order ships.
Yield

Strength:

50,

000 psi

Hardness:

Rockwell B65

(Soft)

Temper:

H02 (

1/2

Hard)

Heat

Treatable:

No
Specifications

Met:

ASTM B121
Thick.

Thick.

Tolerance
Range
Each
0.063"
-0.005" to 0.005"
0000000
000000

1/8

"
-0.006" to 0.006"
0000000
00000
0.15"
-0.007" to 0.007"
0000000
00000

1/4

"
-0.009" to 0.009"
0000000
000000

3/8

"
-0.012" to 0.012"
0000000
000000

1/2

"
-0.015" to 0.015"
0000000
000000

3/4

"
-0.018" to 0.018"
0000000
000000
0.063"
-0.005" to 0.005"
0000000
00000

1/8

"
-0.006" to 0.006"
0000000
000000
0.15"
-0.007" to 0.007"
0000000
000000

1/4

"
-0.009" to 0.009"
0000000
000000

3/8

"
-0.012" to 0.012"
0000000
000000

1/2

"
-0.015" to 0.015"
0000000
000000

3/4

"
-0.018" to 0.018"
0000000
000000
0.063"
-0.005" to 0.005"
0000000
000000

1/8

"
-0.006" to 0.006"
0000000
000000
0.15"
-0.007" to 0.007"
0000000
000000

1/4

"
-0.009" to 0.009"
0000000
000000

3/8

"
-0.012" to 0.012"
0000000
000000

1/2

"
-0.015" to 0.015"
0000000
000000

3/4

"
-0.018" to 0.018"
0000000
00000000
0.063"
-0.005" to 0.005"
0000000
000000

1/8

"
-0.006" to 0.006"
0000000
000000
0.15"
-0.007" to 0.007"
0000000
000000

1/4

"
-0.009" to 0.009"
0000000
000000

3/8

"
-0.012" to 0.012"
0000000
00000000

1/2

"
-0.015" to 0.015"
0000000
00000000

3/4

"
-0.018" to 0.018"
0000000
00000000
0.063"
-0.005" to 0.005"
0000000
000000

1/8

"
-0.006" to 0.006"
0000000
000000

1/4

"
-0.009" to 0.009"
0000000
00000000

3/8

"
-0.012" to 0.012"
0000000
00000000

1/2

"
-0.015" to 0.015"
0000000
00000000
Yield

Strength:

15,

000 psi

Hardness:

Rockwell B35

(Soft)

Temper:

H02 (

1/2

Hard)



Heat

Treatable:

No
Specifications

Met:

ASTM B121