Specifications Met

Specifications Met

Hide
Warning: Products have one, but not necessarily all, of the selected characteristics.
System of Measurement

System of Measurement
Thread Direction

Thread Direction
Thread Spacing

Thread Spacing
| | |
| --- | --- |
| | |
Tensile Strength

Tensile Strength
RoHS (Restriction of Hazardous Substances)

RoHS

(Restriction

of
Hazardous

Substances)
About Threaded Studs and Rods
Ultra-Corrosion-Resistant

Stainless Steel Threaded Rods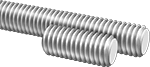 The most corrosion resistant stainless steel threaded rods we offer, these Alloy 20 stainless steel threaded rods contain nickel to withstand exposure to sulfuric, phosphoric, and nitric acids. Also known as Carpenter 20, they resist cracking from stress and corrosion. They may be mildly magnetic.
For technical drawings and 3-D models, click on a part number.
Lg.,




ft.

Tensile


Strength,

psi

Hardness
Specifications
Met
Each

Alloy 20 Stainless Steel

1/4"-20

1
80,000
Not Rated
ASTM B473
000000000
000000
3
80,000
Not Rated
ASTM B473
000000000
00000
6
80,000
Not Rated
ASTM B473
000000000
000000

5/16"-18

1
80,000
Not Rated
ASTM B473
000000000
00000
3
80,000
Not Rated
ASTM B473
000000000
00000
6
80,000
Not Rated
ASTM B473
000000000
000000

3/8"-16

1
80,000
Not Rated
ASTM B473
000000000
00000
3
80,000
Not Rated
ASTM B473
000000000
00000
6
80,000
Not Rated
ASTM B473
000000000
000000

1/2"-13

1
80,000
Not Rated
ASTM B473
000000000
00000
3
80,000
Not Rated
ASTM B473
000000000
000000
6
80,000
Not Rated
ASTM B473
000000000
000000

5/8"-11

3
80,000
Not Rated
ASTM B473
000000000
000000
6
80,000
Not Rated
ASTM B473
000000000
000000

3/4"-10

3
80,000
Not Rated
ASTM B473
000000000
000000
6
80,000
Not Rated
ASTM B473
000000000
000000