AT Series

Dust-Free

Cut-to-Length

Timing Belts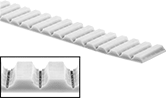 Urethane has excellent abrasion resistance, so these belts don't create dust while they run. They have steel reinforcement, which has very high strength, low stretch, and excellent shock resistance.
Secure belt ends to a flat surface with end plates.
For technical drawings and 3-D models, click on a part number.