Carts with Outlet Strips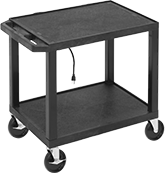 A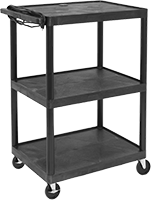 B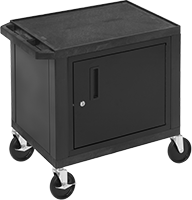 C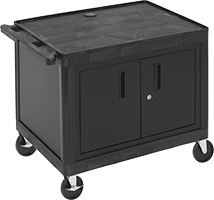 D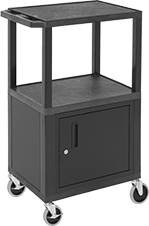 E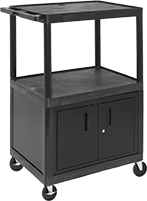 F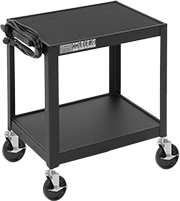 G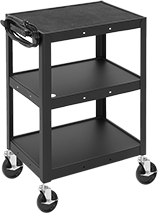 H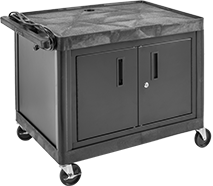 J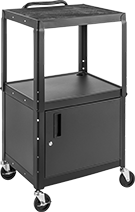 K
Also known as A/V and audio/visual carts, these carts come with a 15-amp outlet strip and power cord.
Adjustable Style B and E carts have additional frame pieces that can be swapped in to change the height of the shelves.
Polyethylene carts are lightweight and resist dents and corrosion. Steel carts are heavier and more durable than plastic carts. Enclosed carts have a door with a lock.
Carts with a slip-resistant surface prevent items from sliding. Carts with an adjustable top shelf require some assembly to adjust the height.
Style A-K carts have four swivel casters for easy maneuvering and wheel brakes to prevent the cart from rolling.
Solid plastic wheels work best on smooth surfaces. Rubber tread-on-core wheels have a hard core for strength surrounded by a shock- and sound-absorbing tread for a cushioned ride on all surfaces.
Steel Carts with Nonslip Surface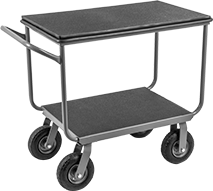 A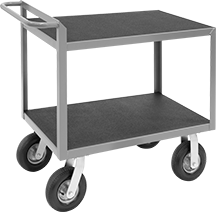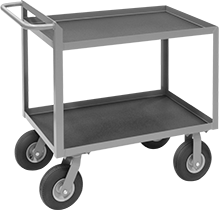 (B)
With Lipped Top Shelf
Reduce movement of items during transit—nonslip vinyl surfaces keep equipment from sliding around. Carts have a welded construction for added strength.
Style A carts have bumpers around the top shelf to protect walls. The top shelf is made of nonconductive, impact resistant composite wood.
Style B carts have an offset handle for easier pushing.
Flush shelves provide a smooth work surface. Lipped shelves contain spills and prevent items from rolling off.
Carts with two swivel and two rigid casters have better steering control. Carts with four swivel casters have better maneuverability.
Casters with a wheel brake prevent the wheel from rolling.
Polyurethane tread-on-core wheels have a hard core for strength and an abrasion-resistant, nonmarking, and shock-absorbing tread for cushioning. Use them on all floor types, including areas with debris. Pneumatic rubber wheels provide a cushioned ride over the roughest surfaces, such as gravel.
Replaceable casters are removable. Permanent casters are more durable, but only the wheel is replaceable.
Style A—Composite Wood Top Shelf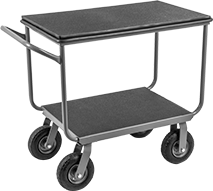 A
O'all




Cap.,




lbs.

No.


of
Shelves
Shelf


Cap.,




lbs.

Shelf


Wd.

Lg.

Thick.

Ht.

Lg.

Material
Shelf
Clearance
Wheel
Configuration
Brake
Type
Caster
Mount
Type
Assembled
or
Unassembled
Each

Polyurethane Rubber

Tread-on-Core

Wheels

1,000
2
500
22"
36"

3/4

"
35"
30"
Steel
25"
Four Swivel Casters
Wheel Brake

Permanent
Assembled
0000000
0000000

Rubber Pneumatic Wheels

1,000
2
500
22"
36"

3/4

"
35"
30"
Steel
20"
Two Swivel and Two Rigid Casters
None
Permanent
Assembled
0000000
000000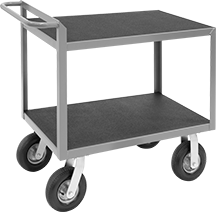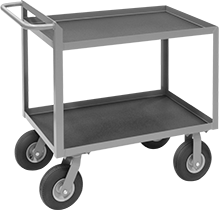 (B)
With Lipped Top Shelf
O'all




Cap.,




lbs.

No.


of

Cap.,




lbs.

Lg.

Wd.

Clearance
Top
Shelf


Ht.

Wheel
Configuration
Brake
Type
Caster
Mount
Type
Assembled
or
Unassembled
Each

Flush Top Shelf

Rubber Pneumatic Wheels

1,200
2
600
36"
24"
18"
34"
Two Swivel and Two Rigid Casters
None
Replaceable
Assembled
00000000
0000000
1,200
2
600
48"
24"
18"
34"
Two Swivel and Two Rigid Casters
None
Replaceable
Assembled
00000000
000000
1,200
2
600
60"
30"
18"
34"
Two Swivel and Two Rigid Casters
None
Replaceable
Assembled
00000000
000000

Lipped Top Shelf

Rubber Pneumatic Wheels

1,200
2
600
36"
24"
18"
34"
Two Swivel and Two Rigid Casters
None
Replaceable
Assembled
00000000
000000
1,200
2
600
48"
24"
18"
34"
Two Swivel and Two Rigid Casters
None
Replaceable
Assembled
00000000
000000
1,200
2
600
60"
30"
18"
34"
Two Swivel and Two Rigid Casters
None
Replaceable
Assembled
00000000
000000
| | | | |
| --- | --- | --- | --- |
| Replacement Pneumatic Wheel | 0000000 | Each | 000000 |