About
Sump,

Water-Removal,

Condensate,

and Submersible Pumps
Compact
Water-Removal

Pumps
Also known as bilge pumps, these remove fresh and salt water from spots where other pumps don't fit. They have an internal sensor, so they turn on when they detect water and turn off when the water is removed. Pumps are fully submersible. They are gravity fed and require an elevated liquid source to fully fill the pump before turning on.
Pumps for 12 volts DC work with 12-volt batteries.
Pumps for 120 volts AC are for use in debris-free water.

@ 5




Ft.

of
Head

@ 10




Ft.

of
Head

Max.




Ft.

of


Head,

ft.

Removes
Water
Down To

Temp.




Range,




°F

Sensor
Time
Interval
Horsepower

Current,


A
For
Tube
ID
Gender

Dia.

Ht.

Each

ABS Plastic Housing

5
1
11

1/4

"
30° to 140°
2.5 min.
Not Rated
1.6

3/4

"
Male
3"
4"
0000000
000000
10
3
10

1/4

"
30° to 140°
2.5 min.
Not Rated
3.7
1", 1

1/8

"
Male
3"
5"
0000000
000000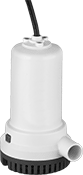 @ 5




Ft.

of
Head

@ 10




Ft.

of
Head

Max.




Ft.

of


Head,

ft.

Removes
Water
Down To

Temp.




Range,




°F

Sensor
Time
Interval
Horsepower
Current
Pipe
Size

Thread
Type
Gender

Dia.

Ht.

Includes
Each

ABS Plastic Housing

20
13
18
1"
40° to 140°
2.5 min.
Not Rated
Not Rated

3/4

NPT

Male
5"
8"
Garden Hose Adapter
0000000
0000000
20
13
18
1"
40° to 140°
2.5 min.
Not Rated
Not Rated

3/4

NPT

Male
5"
8"
Garden Hose Adapter
0000000
000000