Automatic Robot Tool Changers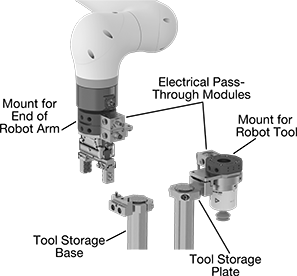 No need to manually latch and unlatch end-of-arm tools, these tool changers will quickly and seamlessly swap them out for you. While manual tool changers are good for switching tools in between two different work cycles, these automatic tool changers are best for making multiple changes in a single work cycle.
A complete assembly consists of an end-of-robot-arm mount and a robot-tool mount (each sold separately) that lock together with air-powered latching cams. While you'll only need one end-of-robot-arm mount for your robot arm, make sure you have a robot-tool mount for each of your tools. All of these mounts have standard ISO mounting hole patterns, so they're compatible with the mounting hole patterns on most robot arms and tools. If you don't see your robot model number listed, measure the bolt circle diameter to determine mounting compatibility.
All of these mounts have air connections, so you can use compressed air to operate air-powered tools, such as grippers. They also have connections for adding electrical pass-through modules (sold separately) to power electrically controlled tools.
To create a tool docking system, use tool storage plates with tool storage bases and tool presence detectors, so tool changers can pick tools up or drop them off as they are needed.
For technical drawings and 3-D models, click on a part number.