Automatic
Select-a-Length

Tape Dispensers
Dispense each piece at the touch of a button, or set these dispensers to advance a set length of tape automatically so a new piece is always ready.
Dispenser with push-button control dispenses tape to one of three selectable lengths. It can also run on three D batteries. Use with office tape and masking tape.
Dispenser with keypad control dispenses and cuts tape to any set length. Use with office tape, masking tape, and reinforced tape.
With Push-Button Dispensing Control

With
Push-Button
Dispensing
Control
With Keypad Dispensing Control

With Keypad Dispensing Control
Min.




Wd.

Max.




Wd.

Max.


Roll


Dia.

For
Spool
ID

Lg.


Dispensed

Lg.

Wd.

Ht.

Housing
Material
Tape
Included
Color
Each

Pkg.




Qty.

Pkg.

9/32

"
2"
7"
1", 1

1/2

", 3"

3/4

" to 39"
9

3/4

"
5

1/2

"
6"
Plastic
No
Black
00000000
0000000
2
00000000
000000
Automatic Tape Dispensers for
Water-Activated

Packaging Tape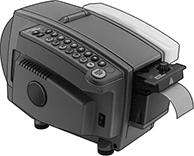 Press a button to measure, moisten, and cut water-activated packaging tape, or use continuous mode to dispense a new piece of tape every time the previous piece is removed. Choose one of 14 standard lengths, or use the override button for other lengths. These dispensers have a heater to quickly activate glue for good adhesion in cold environments.
Tank


Cap.,

oz.

Min.




Wd.

Max.




Wd.

Max.


Roll


Dia.

For
Spool
ID

Lg.


Dispensed

Lg.


Increment

Lg.

Wd.

Ht.

Housing
Material
Tape
Included
Each
34
1

1/2

"
3"
10"
3"
6" to 45"
3"
20"
12

1/2

"
12"
Metal, Plastic
No
00000000
000000000