Babbitt Paste for Casting Metals

An integral component of casting babbitt bearings, apply a thin coat of this paste to bronze, cast iron, and steel bearing housings before casting to prevent separation.
Lead
Tin
Zinc
Chloride

Wt.,




lbs.

Each
40%
40%
10%
1
0000000
0000000
Casting Metals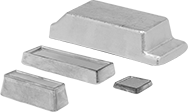 Melt and pour these alloys into molds to create metal parts and prototypes.
Lead-base babbitt is a soft alloy. Use it to cast light-load bearings. It has superior antifriction properties.
Lead-base coppered babbitt is able to withstand shock and vibration and requires less lubrication than other types of babbitt. Use it to cast bearings for low-speed, heavy-load applications.
Tin-base babbitt is used to cast bearings for high-speed, high-wear applications and can withstand heavy, sustained loads. It has a higher melting temperature than lead-base babbitt.
Melting


Temperature,

°F

Lead
Tin
Antimony

Thick.

Wd.

Lg.

Wt.,




lbs.

Shape
Each
459°
80%
5%
15%
1

1/8

"
1

5/8

"
7

1/2

"
5
Sheet and Bar
0000000
0000000
Lead-Base Coppered Babbitt
Material
Melting


Temperature,




°F

Lead
Tin
Antimony
Copper
Arsenic

Thick.

Dia.

Wt.,




lbs.

Shape
Each
Lead-Base Coppered Babbitt
625°
75%
10%
14%
0.3%
0.5%
1

1/2

"
3

3/4

"
4

1/2

Rod and Disc
0000000
0000000
Melting


Temperature,

°F

Tin
Antimony
Copper

Thick.

Wd.

Lg.

Wt.,




lbs.

Shape
Each
669°
89%
7%
4%
1

1/2

"
2"
5

1/2

"
4

1/2

Sheet and Bar
0000000
0000000