Heavy Duty Plastic
Hand-Pump

Sprayers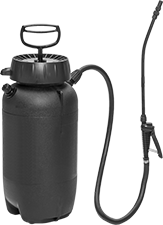 These sprayers have a more durable construction than our other plastic hand-pump sprayers. They have a large fill opening for easy filling and cleaning. Pump the handle to pressurize the tank, then squeeze the trigger on the wand to spray. They are often used for degreasers, insecticides, disinfectants, cleaning solutions, and herbicides. They have a trigger that can be locked for continuous spray.
Note: The material of the parts can affect a sprayer's compatibility with a chemical or solution. Make sure the tank, seal, wand, and nozzle are suitable for your application.
Replacement
Trigger and
Wand Kits

Cap.,




gal.

Dia.

Ht.

Tank
Material
Seal
Material
Clarity
Color
Hose


Lg.

Wand


Lg.

Fill
Opening


Dia.

Each
Each
Each

Cone/Mist/Stream

Dispensing

2
7

3/4

"
19

1/4

"
Polyethylene Plastic
Viton® Fluoroelastomer Rubber
Opaque
Black
42"
12"
4"
0000000
0000000
00000000
000000
00000000
000000
3
8

1/8

"
25"
Polyethylene Plastic
Viton® Fluoroelastomer Rubber
Opaque
Black
42"
18"
4"
0000000
000000
00000000
00000
00000000
00000
Outdoor Insect and Disinfectant Backpack Foggers
Spray disinfectants or insecticides through stadiums, worksites, and other large outdoor areas—these foggers treat an acre of space in 30 minutes with only one refill. A powerful fan propels mist forward up to 40 ft. or upward up to 25 ft. With a built-in fuel tank, they don't require an outlet like electric foggers or the effort of hand-pump foggers. Set your preferred spray pattern by adjusting the flow rate and droplet size; spray with greater flow and droplet size for more concentration, or spray with less flow and smaller droplets to cover a broader area. Keep flow and droplet size settings in place with the power lock. The throttle grip is adjustable for comfort. These foggers meet California Air Resources Board (CARB) air pollution standards. Not for use with oil-based liquids and other flammable products.
Insecticides cannot be sold outside of the United States due to product registration requirements.
Backpack Fogger
Approximate
Coverage
Container


Size,




gal.

Flow


Rate,


gpm
Droplet


Size,


microns

Lg.

Ht.

Wd.

Container
Material
Material

Lg.

Nozzle
Material
Fuel Tank


Capacity,




qt.

Features
Each
35,475 sq. ft.
3.7
0.2-0.5
20-50
21"
26"
17"
Polyethylene Plastic
PVC Plastic
48"
Polyphenylene Plastic
1.1
Adjustable Padded Shoulder Straps;Throttle Control
0000000
0000000