Closure Style

Closure Style
Specifications Met

Specifications Met
Outer Layer Material

Outer Layer Material
Electrical Properties

Electrical Properties
Show
Electrical Properties

Electrical Properties
Hide
Warning: Products have one, but not necessarily all, of the selected characteristics.
RoHS (Restriction of Hazardous Substances)

RoHS

(Restriction

of
Hazardous

Substances)
Surface Resistivity

Surface Resistivity
DFARS (Defense Acquisition Regulations Supplement)

DFARS

(Defense

Acquisition
Regulations

Supplement)
Static-Dissipative

Press-to-Close

Bags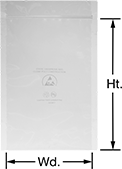 These bags offer the fastest, most effective removal of static electricity of all our press-to-close bags. They are made of amine-free polyethylene with an outside layer of coated polyester.
Note: One mil equals 0.001".
Wd.

Ht.

Thick.,


mil
Color
Material
Outer Layer Material
Specifications Met

Pkg.




Qty.

Pkg.

3"
5"
3.5
Clear
Polyethylene Plastic
Polyester Plastic
ANSI/ESD S11.4 Level 5
10
0000000
00000
4"
6"
3.5
Clear
Polyethylene Plastic
Polyester Plastic
ANSI/ESD S11.4 Level 5
10
0000000
0000
5"
8"
3.5
Clear
Polyethylene Plastic
Polyester Plastic
ANSI/ESD S11.4 Level 5
10
0000000
0000
8"
10"
3.5
Clear
Polyethylene Plastic
Polyester Plastic
ANSI/ESD S11.4 Level 5
10
0000000
0000
10"
12"
3.5
Clear
Polyethylene Plastic
Polyester Plastic
ANSI/ESD S11.4 Level 5
10
0000000
0000
12"
16"
3.5
Clear
Polyethylene Plastic
Polyester Plastic
ANSI/ESD S11.4 Level 5
10
0000000
0000
12"
18"
3.5
Clear
Polyethylene Plastic
Polyester Plastic
ANSI/ESD S11.4 Level 5
10
0000000
0000