Closure Style

Closure Style
Specifications Met

Specifications Met
DFARS (Defense Acquisition Regulations Supplement)

DFARS

(Defense

Acquisition
Regulations

Supplement)
Electrical Properties

Electrical Properties
Show
Electrical Properties

Electrical Properties
Hide
Warning: Products have one, but not necessarily all, of the selected characteristics.
Outer Layer Material

Outer Layer Material
Surface Resistivity

Surface Resistivity
Static-Dissipative

Press-to-Close

Bags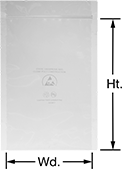 These bags offer the fastest, most effective removal of static electricity of all our press-to-close bags. They are made of amine-free polyethylene with an outside layer of coated polyester.
Note: One mil equals 0.001".
Wd.

Ht.

Thick.,


mil
Color
Material
Outer
Layer
Material
Specifications
Met

Pkg.




Qty.

Pkg.

3"
5"
3.5
Clear
Polyethylene Plastic
Polyester Plastic
ANSI/ESD S11.4 Level 5
10
0000000
00000
4"
6"
3.5
Clear
Polyethylene Plastic
Polyester Plastic
ANSI/ESD S11.4 Level 5
10
0000000
0000
5"
8"
3.5
Clear
Polyethylene Plastic
Polyester Plastic
ANSI/ESD S11.4 Level 5
10
0000000
0000
8"
10"
3.5
Clear
Polyethylene Plastic
Polyester Plastic
ANSI/ESD S11.4 Level 5
10
0000000
0000
10"
12"
3.5
Clear
Polyethylene Plastic
Polyester Plastic
ANSI/ESD S11.4 Level 5
10
0000000
0000
12"
16"
3.5
Clear
Polyethylene Plastic
Polyester Plastic
ANSI/ESD S11.4 Level 5
10
0000000
0000
12"
18"
3.5
Clear
Polyethylene Plastic
Polyester Plastic
ANSI/ESD S11.4 Level 5
10
0000000
0000