Drum-Mount

Two-Stage

Dust Collectors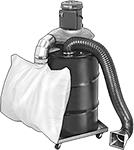 Dust Collector with Optional Dolly
(Drum Not Included)
Mount these powerful units on a steel open-head drum (not included) for two-stage collection. In the first stage, larger particles fall into the drum; in the second stage, smaller particles go into the filter bag, resulting in less wear on the blower and filter bag.
Note: Not for use with combustible metal dust, including aluminum, magnesium, and titanium.
Hazardous location dust collectors have a CSA Certified explosion-proof motor that is rated IP44 for protection in damp environments. UL standards also apply to the motor.
450 cfm dust collectors require the adapter kit (sold separately).
Note: Filter area is the number of square feet of fabric area of an inflated filter bag.
Airflow

Area,




sq.




ft.

Efficiency
@ 5
Microns
Efficiency
@ 10
Microns
hp

Current,


A
Inlet


Dia.

Cap.,




gal.

Dia.

Volume
Material
Environment
Electrical
Connection
Type
Each
Each

Three Phase Motor

450 cfm @ 0 in. of H₂O
12

1/2

__
99%

1/2

2/1
4"
20, 24, 30
18"-20"
78 dBA @ 5 ft.
Steel
Hazardous Location
Hardwire
0000000
000000000
000000
0000000
700 cfm @ 0 in. of H₂O
18
99%
__
1
2.8/1.4
6"
55
22"-24"
83 dBA @ 5 ft.
Steel
Hazardous Location
Hardwire
0000000
00000000
000000
000000
| | | | |
| --- | --- | --- | --- |
| Adapter Kit for 450 cfm Dust Collectors | 0000000 | Each | 0000000 |
Large-Capacity Filter Bag Kits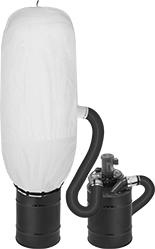 Drum-Mount
Filter Bag Kit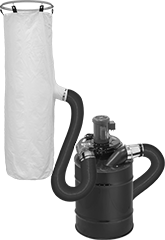 Ceiling-Mount
Filter Bag Kit
Mount.


Location
Inlet


Dia.

Inlet
Hose


Lg.

Area,




sq.




ft.

Efficiency
@ 5
Microns

Dia.

Ht.

Material

Mount.


Hardware
Included
Features
Each
Each
Drum
6"
5 ft.
45
99%
24"
72"
Polyester Fabric
Yes
Belt and Quick-Release Buckle, Hook
0000000
0000000
0000000
0000000
Drum
6"
5 ft.
100
99%
48"
72"
Polyester Fabric
Yes
Belt and Quick-Release Buckle, Hook
0000000
000000
0000000
000000
Ceiling
6"
5 ft.
48
99%
24"
72"
Polyester Fabric
Yes
Suspension Ring and Hooks, Zipper
0000000
000000
0000000
000000