Bale and Bundle Twist Ties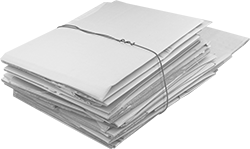 Secure large bundles such as lumber, cardboard, and wire coils. Feed the straight end through the loop and twist. Also known as baling wire.
Painted steel is more corrosion resistant than unfinished steel.

These ties have a loop on each end that can be twisted around each other for a secure closure.
PVC-coated steel ties reduce slipping. 304 stainless steel ties are more corrosion resistant than steel.
Lg.

For

Max.


Bundle

Dia.

Useful Life

Dia.

Gauge
For Use
Outdoors
Color

Pkg.




Qty.

Pkg.

4"

1/2

"
Reusable
0.06"
16
No
Yellow
250
0000000
000000
5"

3/4

"
Reusable
0.06"
16
No
Yellow
250
0000000
00000
6"
1"
Reusable
0.06"
16
No
Yellow
250
0000000
00000
7"
1

3/8

"
Reusable
0.06"
16
No
Yellow
250
0000000
00000

304 Stainless Steel

6"
1"
Reusable
0.06"
16
No
__
50
00000000
00000
8"
1

3/4

"
Reusable
0.06"
16
No
__
50
00000000
00000
12"
3"
Reusable
0.06"
16
No
__
50
00000000
00000

Steel

3"

1/8

"
Reusable
0.05"
17
No
Black
500
0000000
00000
4"

1/2

"
Reusable
0.04"
19
No
Black
500
0000000
00000
4"

1/2

"
Reusable
0.05"
17
No
Black
500
0000000
00000
5"

3/4

"
Reusable
0.05"
17
No
Black
500
0000000
00000
6"
1"
Reusable
0.04"
19
No
Black
500
0000000
00000
6"
1"
Reusable
0.06"
16
No
Black
250
0000000
0000
7"
1

3/8

"
Reusable
0.06"
16
No
Black
250
0000000
00000
8"
1

3/4

"
Reusable
0.04"
19
No
Black
500
0000000
00000
8"
1

3/4

"
Reusable
0.06"
16
No
Black
250
0000000
00000
9"
2"
Reusable
0.06"
16
No
Black
250
0000000
00000
10"
2

3/8

"
Reusable
0.06"
16
No
Black
250
0000000
00000
11"
2

5/8

"
Reusable
0.06"
16
No
Black
250
0000000
00000
12"
3"
Reusable
0.06"
16
No
Black
250
0000000
00000
12"
3"
Reusable
0.08"
14
No
Black
250
0000000
00000
14"
3

5/8

"
Reusable
0.06"
16
No
Black
250
0000000
00000
15"
4"
Reusable
0.08"
14
No
Black
250
0000000
00000
17"
4

5/8

"
Reusable
0.06"
16
No
Black
250
0000000
00000