Multidirectional Flow Rails
Rotate materials in any direction on these flow rails. Use them to convey packages and pallets in flow racks, assembly areas, and confined spaces.
Ball transfers rotate to accommodate changes in direction.
Threaded-stud-mount ball transfers are attached to the rail with a stud and nut.
Flange-mount ball transfers are riveted in place.
Note: Capacities are based on a fully supported rail.
For technical drawings and 3-D models, click on a part number.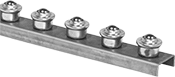 With
Stud-Mount
Ball Transfers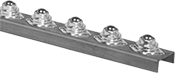 With
Flange-Mount
Ball Transfers
Spacing

Dia.

Projection
Material
Material

Cap.

per


Ball,

lbs.

Wd.

Ht.

Thread
Size

Frame


Wd.

Each
3"
1"
1

1/2

"
Steel
Zinc-Plated Steel
65
2

1/2

"
2

1/2

"

1/4

"-20

2

1/2

"
0000000
0000000
4"
1"
1

1/2

"
Steel
Zinc-Plated Steel
65
2

1/2

"
2

1/2

"

1/4

"-20

2

1/2

"
0000000
000000

Flange Mount

3"
1"
1

3/16

"
Steel
Zinc-Plated Steel
75
2

1/2

"
2

3/16

"
__
2

1/2

"
0000000
000000
4"
1"
1

3/16

"
Steel
Zinc-Plated Steel
75
2

1/2

"
2

3/16

"
__
2

1/2

"
0000000
000000
6"
1"
1

3/16

"
Steel
Zinc-Plated Steel
75
2

1/2

"
2

3/16

"
__
2

1/2

"
0000000
000000
3"
1"
1

1/2

"
Steel
Zinc-Plated Steel
65
2

1/2

"
2

1/2

"

1/4

"-20

2

1/2

"
0000000
000000
4"
1"
1

1/2

"
Steel
Zinc-Plated Steel
65
2

1/2

"
2

1/2

"

1/4

"-20

2

1/2

"
0000000
000000

Flange Mount

3"
1"
1

3/16

"
Steel
Zinc-Plated Steel
75
2

1/2

"
2

3/16

"
__
2

1/2

"
0000000
000000
4"
1"
1

3/16

"
Steel
Zinc-Plated Steel
75
2

1/2

"
2

3/16

"
__
2

1/2

"
0000000
000000
6"
1"
1

3/16

"
Steel
Zinc-Plated Steel
75
2

1/2

"
2

3/16

"
__
2

1/2

"
0000000
000000