Drop Boxes
Create a drop-off spot for documents and other small items.
Aluminum and powder-coated steel boxes are corrosion resistant. Powder-coated steel boxes are enclosed for outdoor use.
Plastic boxes have a clear sliding panel on the back for retrieving forms.
Mount screw-in boxes to the wall to save space. Screw-in boxes with a 5-in. opening can also be placed upright on a table or counter.
Boxes with a lock store deposits in a secure department, keeping them especially safe from theft. Floor-mount boxes have a drop door with a larger opening than other boxes, so they can receive packages in addition to smaller items.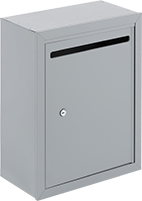 Aluminum Box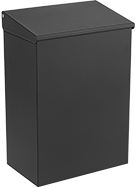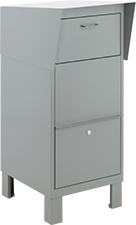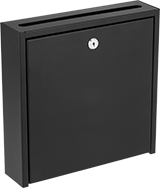 Screw-In
Steel Box with Lock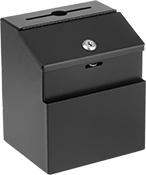 Freestanding Steel Box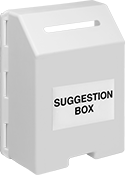 Screw-In
Plastic Box
(Shown with Label)
Wd.

Dp.

Wd.

Dp.

Ht.

Wd.

Dp.

Color
Mounting
Fasteners
Included

No.


of

Dia.

For
Use
Outdoors
Features
Includes
Each

Aluminum

Screw In

11

1/2

"

3/4

"
__
__
19"
15"
7

1/2

"
__
No
4

1/2

"
No
Lock
Two Keys
00000000
0000000

Screw In

__
__
10

1/2

"
6

1/2

"
15

1/2

"
10

1/2

"
6

1/2

"
Black
No
4

1/4

"
Yes
Lid
__
00000000
00000

Floor Mount

15

3/4

"
7"
__
__
49"
20"
26"
Blue
No
4

1/2

"
Yes
Drop Door, Lock
Three Keys
00000000
00000000
15

3/4

"
7"
__
__
49"
20"
26"
Gray
No
4

1/2

"
Yes
Drop Door, Lock
Three Keys
00000000
00000000

Steel

Screw In

10

1/2

"

3/4

"
__
__
12"
12"
3"
Black
Yes
__
__
No
Lock
Two Keys
0000000
00000

Freestanding

4

3/4

"

1/8

"
__
__
8

1/2

"
7

1/4

"
6"
Black
Yes
__
__
No
Front Pocket, Lock
Labels, Suggestion Cards, Two Keys
0000000
00000

Plastic

Screw In

5"

1/2

"
__
__
11"
8

1/2

"
4

1/2

"
White
No
2

1/4

"
No
Clear Back Panel
__
0000000
00000