Liquid-Resistant

Shop and Lab Coats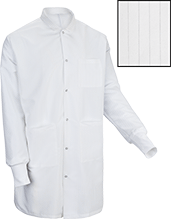 White Coat with
Snaps,
One Chest
Pocket,
and Two Waist Pockets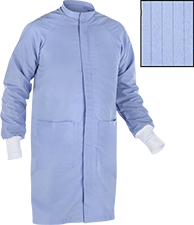 Blue Coat with Zipper and Two Waist Pockets
Made of 99% polyester and 1% carbon fiber, these coats repel liquids. These knee-length coats are also known as barrier coats. They have knit cuffs to keep liquid from splashing into sleeves.
When measuring chest size, measure around the fullest part of your chest. Take all measurements over clothing you expect to wear under the coat.
Size
Chest
Size

Lg.

XS
30"/32"
42"
S
34"/36"
42"
M
38"/40"
43"
L
42"/44"
43"
XL
46"/48"
44"
2XL
50"/52"
44"
3XL
54"/56"
45"
Material
Closure
Type
Cuff
Style
Features
Pattern
Color
Choose
a
Size
Each
Polyester/Carbon Fiber Fabric Blend
Snaps
Knit
One Chest Pocket, Two Waist Pockets
Black Pinstripes
White
000000
000000
Polyester/Carbon Fiber Fabric Blend
Zipper
Knit
Two Waist Pockets
Black Pinstripes
Blue
000000
00000