Protectors for Robot Teach Pendants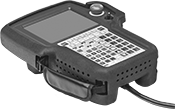 Drop, scrape, or spill on your robot teach pendants (also known as HMIs)—these protectors will guard them, preventing downtime due to damage. With a size and shape tailored to your teach pendant, each protector fits snugly without blocking buttons or other features.
Screen protectors guard against scratches, oils, and greases without disrupting touch-screen functionality.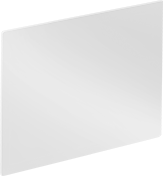 Screen Protector
Series
Model Number
Material
Color
Each

Screen Protector

e-Series
UR3e, UR5e, UR10e, UR16e
Glass
Clear
0000000
000000
Screen Protectors for Phones


Protect your mobile device screens from smudges and scratches. Thicker than plastic, these glass protectors are better at shielding your screen from drops, bumps, and scratches. However, their edges are noticeable. These protectors won't create air bubbles under the surface when you press them onto your screen, making them easy to apply.
For Manufacturer Model

Ht.

Wd.

Each

Glass Protectors

For Apple iPhone

X, XS
5

5/8

"
2

3/4

"
00000000
000000
11, 12, 12 Pro, XR
5

3/4

"
2

13/16

"
00000000
00000
11 Pro Max
6

3/16

"
3

1/16

"
00000000
00000
12 Mini
5

3/16

"
2

1/2

"
00000000
00000

For Samsung Galaxy

S10
5

7/8

"
2

3/4

"
00000000
00000
S10 Plus
6

3/16

"
2

7/8

"
00000000
00000
S20, S20 5G
5

15/16

"
2

11/16

"
00000000
00000
S20 Plus, S20 Plus 5G
6

5/16

"
2

7/8

"
00000000
00000
S20 Ultra, S20 Ultra 5G
6

1/2

"
2

15/16

"
00000000
00000