Balsa Wood Cores
Stiffen composite sandwiches while also keeping them lightweight. These balsa wood cores have good compressive strength, yet are soft and light in weight. You can use these cores as sound and thermal insulators. All come from balsa trees grown in FSC (Forest Stewardship Council) certified forests.
Use rigid cores in panels for partitions, industrial tanks, and other stiff structures.
Flexible cores are best for creating complex shapes.
Cannot be sold to Canada due to import regulations.
For technical drawings and 3-D models, click on a part number.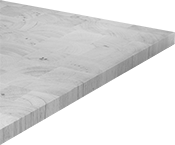 Rigid
Thickness
Width
Length
Compressive


Strength,

psi
Temperature


Range,

°F

Cannot Be
Sold To
Each

1/4

"
24"
48"
1,500
-100° to 325°
Canada
00000000
000000

3/8

"
24"
48"
1,500
-100° to 325°
Canada
00000000
00000

1/2

"
24"
48"
1,500
-100° to 325°
Canada
00000000
00000

5/8

"
24"
48"
1,500
-100° to 325°
Canada
00000000
00000

3/4

"
24"
48"
1,500
-100° to 325°
Canada
00000000
00000
1"
24"
48"
1,500
-100° to 325°
Canada
00000000
00000
1

1/4

"
24"
48"
1,500
-100° to 325°
Canada
00000000
00000
1

1/2

"
24"
48"
1,500
-100° to 325°
Canada
00000000
00000
1

3/4

"
24"
48"
1,500
-100° to 325°
Canada
00000000
00000
2"
24"
48"
1,500
-100° to 325°
Canada
00000000
00000
Flexible Cores with Fiberglass Fabric Reinforcement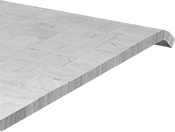 Flexible
Thickness
Width
Length
Compressive


Strength,

psi
Temperature


Range,

°F

Cannot Be
Sold To
Each

1/4

"
24"
48"
1,500
-100° to 325°
Canada
00000000
000000

3/8

"
24"
48"
1,500
-100° to 325°
Canada
00000000
00000

1/2

"
24"
48"
1,500
-100° to 325°
Canada
00000000
00000

5/8

"
24"
48"
1,500
-100° to 325°
Canada
00000000
00000

3/4

"
24"
48"
1,500
-100° to 325°
Canada
00000000
00000
1"
24"
48"
1,500
-100° to 325°
Canada
00000000
00000
1

1/4

"
24"
48"
1,500
-100° to 325°
Canada
00000000
00000
1

1/2

"
24"
48"
1,500
-100° to 325°
Canada
00000000
00000
1

3/4

"
24"
48"
1,500
-100° to 325°
Canada
00000000
00000
2"
24"
48"
1,500
-100° to 325°
Canada
00000000
00000