Batch-Dispensing

On/Off

Valves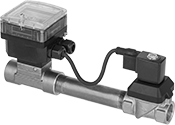 Digital Display
Accurately and consistently dispense a specific amount of liquid—these actuated valves have a screen and buttons for programming batch size and calibration. They'll automatically shut off once the set amount of liquid has been released.
Stainless steel valves have better corrosion resistance than brass valves, so they can be used with harsher chemicals.
For technical drawings and 3-D models, click on a part number.
Brass Body with Buna-N Rubber Seals
For Use

With:

Beverage,

Deionized

Water,

Diesel

Fuel,

Food,

Water,

Kerosene,

Oil
Pipe
Size
Gender
Thread
Type
Flow


Range,


gpm
Pipe
Schedule
Maximum
Pressure
Maximum


Temperature,




°F

Maximum
Current


Draw,

A
Valve
Length
Height
Width
Environmental
Rating
Specifications
Met
Each

1/2

Female
NPT

2 to 22
40
145 psi @ 175° F
140°
0.06
10

3/8

"
5

3/8

"
3

5/16

"
IP65

CSA Certified; UL Recognized Component
0000000
000000000

3/4

Female
NPT

3 to 38
40
145 psi @ 175° F
140°
0.06
10

11/16

"
5

1/2

"
3

5/16

"
IP65

CSA Certified; UL Recognized Component
0000000
00000000
1
Female
NPT

5 to 62
40
145 psi @ 175° F
140°
0.06
11

7/8

"
5

3/4

"
3

5/16

"
IP65

CSA Certified; UL Recognized Component
0000000
00000000
Brass Body with PTFE Seals
For Use

With:

Beverage,

Deionized

Water,

Diesel

Fuel,

Food,

Water,

Kerosene,

Oil
Pipe
Size
Gender
Thread
Type
Flow


Range,


gpm
Pipe
Schedule
Maximum
Pressure
Maximum


Temperature,




°F

Maximum
Current


Draw,

A
Valve
Length
Width
Height
Environmental
Rating
Specifications
Met
Each
1

1/2

Female
NPT

11 to 146
40
145 psi @ 175° F
140°
0.06
16

3/8

"
6"
15

7/8

"
IP65, NEMA 4X
CSA Certified; UL Recognized Component
0000000
000000000
2
Female
NPT

18 to 241
40
145 psi @ 175° F
140°
0.06
17

3/4

"
6"
16

3/4

"
IP65, NEMA 4X
CSA Certified; UL Recognized Component
0000000
00000000
Stainless Steel Body with Fluorelastomer Rubber Seals
For Use

With:

Beverage,

Water,

Kerosene,

Bleach,

Boric

Acid,

Deionized

Water,

Oil,

Diesel

Fuel,

Food
Pipe
Size
Gender
Thread
Type
Flow


Range,


gpm
Pipe
Schedule
Maximum
Pressure
Maximum


Temperature,




°F

Maximum
Current


Draw,

A
Valve
Length
Width
Height
Environmental
Rating
Specifications
Met
Each

1/2

Female
NPT

2 to 22
40
145 psi @ 175° F
140°
0.06
10

3/8

"
3

5/16

"
5

3/8

"
IP65

CSA Certified; UL Recognized Component
0000000
000000000

3/4

Female
NPT

3 to 38
40
145 psi @ 175° F
140°
0.06
10

11/16

"
3

5/16

"
5

1/2

"
IP65

CSA Certified; UL Recognized Component
0000000
00000000
1
Female
NPT

5 to 62
40
145 psi @ 175° F
140°
0.06
11

7/8

"
3

5/16

"
5

3/4

"
IP65

CSA Certified; UL Recognized Component
0000000
00000000
Stainless Steel Body with PTFE Seals
For Use

With:

Water,

Acetic

Acid,

Food,

Kerosene,

Beverage,

Bleach,

Boric

Acid,

Oil,

Deionized

Water,

Diesel Fuel
Pipe
Size
Gender
Thread
Type
Flow


Range,


gpm
Pipe
Schedule
Maximum
Pressure
Maximum


Temperature,




°F

Maximum
Current


Draw,

A
Valve
Length
Width
Height
Environmental
Rating
Specifications
Met
Each
1

1/2

Female
NPT

11 to 146
40
145 psi @ 175° F
140°
0.06
16

3/8

"
6"
15

7/8

"
IP65, NEMA 4X
CSA Certified; UL Recognized Component
0000000
000000000
2
Female
NPT

18 to 241
40
145 psi @ 175° F
140°
0.06
17

3/4

"
6"
16

3/4

"
IP65, NEMA 4X
CSA Certified; UL Recognized Component
0000000
00000000