Long-Life

Lantern Batteries

Screw Terminal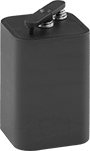 Spring Terminal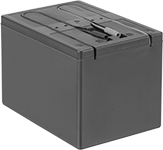 Socket Terminal
Change batteries less often—these last at least twice as long as standard lantern batteries. Use them to power lanterns, barricade lights, and telecommunications devices. Because they are zinc air batteries, they require oxygen to create power. Activate by removing the tape from the holes in the battery case, allowing oxygen to flow inside. They maintain voltage at a constant level, even during power peaks and pulses that can temporarily drain oxygen. Mount in any position with access to air.
Socket
Connection


Size,

mm

Voltage
Battery
Connection Type
Manufacturer
Equivalent Number

Capacity,




mA-hrs.

Dia.

Ht.

Wd.

Dp.

Negative
Positive
Each

Zinc Air

1.5V DC
Screw Terminal
ALR-40, EZ8 1,5/200
200,000
2.5"
6.5"
__
__
__
__
0000000
000000
6V DC
Spring Terminal
4AS2, EZ8 6/50
45,000
__
4.3"
2.6"
2.6"
__
__
0000000
00000
12V DC
Socket Terminal
EZ8 12/60
60,000
__
4.4"
4.4"
6.5"
3
4
0000000
00000
Button/Coin

Cell Batteries

Alkaline,
Silver
Oxide,
Zinc Air
Sized to fit into devices with small battery compartments, these batteries are often used with watches, sensors, and calculators. When choosing a battery, use the capacity, measured in milliampere-hours, to compare among similar sizes. The higher the mA-hr. rating, the longer the battery should last.
Zinc air batteries use oxygen to create power. They are lightweight, long lasting, and often used in hearing aids.
Voltage
Battery
Connection
Type
Manufacturer
Equivalent
Number

Capacity,




mA-hrs.

Dia.

Ht.

Pkg.




Qty.

Pkg.

1.4V DC
Flat Top
10, 10A/10AE, AC10, AC230E/EZ, DA10, HA10/P10, PR10, PR230H, PR70
91
0.23"
0.14"
8
00000000
000000
1.4V DC
Flat Top
13, 13A/13AE, AC13, AC13E/EZ, DA13, HA13/P13, PR13, PR13H, PR48
242
0.31"
0.21"
8
00000000
00000
1.4V DC
Flat Top
312, 312A/312AE, AC312, AC312E/EZ, DA312, HA312/P312, PR312, PR312H, PR41
160
0.31"
0.14"
8
00000000
00000
1.4V DC
Flat Top
675, 675A/675AE, AC675, AC675E/EZ, DA675, P675/V675, PR44, PR675, PR675H
550
0.46"
0.21"
8
00000000
00000