Fast-Charging

Large-Cell

Batteries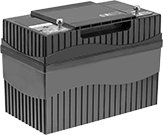 Threaded Insert

An alternative to wet- and dry-cell large-cell batteries, these lithium iron phosphate (LiFePO4) batteries charge more quickly and can be recharged thousands of times. With excellent chemical stability, they reduce the risk of thermal runaway if exposed to overheating or short circuiting. Use them for uninterruptible power supplies (UPS) and emergency lights.
Note: These batteries must be used with LiFePO4-compatible chargers.
Chargers (sold separately) automatically switch from fast charging to maintaining the charge level, so they won't overcharge and damage the battery.
Batteries and Chargers for Chapin Cordless Tools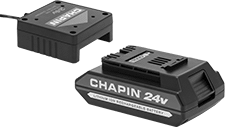 Replace old batteries and chargers for Chapin tools, or have an extra set on hand. For maximum battery life, recharge the lithium ion (Li-ion) batteries before they drain completely. A light on the charger indicates when the battery is charging or fully charged.
Voltage
Battery
Number
Charger
Number

Capacity,




amp-hrs.

Charging


Time,

hrs.

Input
Voltage
Plug Type
Cord


Lg.,

ft.

Each
24
6-8238
6-8238
2
3
120V AC
Two Prong
5
0000000
000000