Cordless Ratchet Wrenches
0-44
ft.-lbs.
Working Torque

10-45
ft.-lbs.
Working Torque

Ring-Style
Socket Retainer

Ball-Detent-Style
Socket Retainer
The motor stops when the fastener is tight. These wrenches have socket retainers that allow quick socket changes—pull the socket off the retainer and push on another one. Use with impact sockets only.
Max.




Torque,




ft.-lbs.

Drive
Direction

No.


of
Speeds

Max.




No-Load




Speed,

rpm
Speed
Control
Overall


Lg.

Weight,




lbs.

Socket
Retainer
Style
Includes
Each
Each
Each
44
Clockwise and Counterclockwise
Variable
2,000
Trigger
15

1/4

"
3.7
Ring
Charger
0000000
0000000
00000000
0000000
00000000
0000000
45
Clockwise and Counterclockwise
1
225
Push Button
17

1/2

"
5
Ball Detent
Charger
0000000
000000
0000000
000000
0000000
000000
Cordless Impact Drivers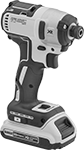 A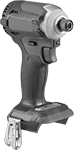 D

F
These tools deliver powerful rotational blows to maximize torque and drive screws quickly, even through thick or dense material. Some drivers include rechargeable batteries that provide power wherever you need it. For other drivers, batteries and chargers are sold separately.
For Style A-C drivers, you can add a right-angle attachment (sold separately) to extend the reach and angle of the drivers to get into hard-to-reach spots. Style F drivers have a detachable right-angle head that can be replaced with a straight head attachment (sold separately) to convert them to a straight-line tool.
Manufacturer
and Model


No.

Voltage

Max.




Torque,




ft.-lbs.

Number
of
Speeds

Max.




No-Load


Speed
Overall


Lg.

Weight,




lbs.

Batteries
Included
Number of
Batteries
Required
Specifications
Met
Includes
Features
Each

Pistol Grip

Lithium Ion

(Li-Ion)

Battery

A
DeWalt DCF815S2
12V DC
80
Variable
2,450 rpm
6

1/4

"
2.3
Yes
1
UL Listed

UL Listed Charger
Built-In Light
00000000
0000000
A
DeWalt DCF887B
20V DC
152
3
3,250 rpm
5

5/16

"
2
No
1
__
__
Built-In Light
000000000
000000
A
DeWalt DCF887D2
20V DC
150
3
3,250 rpm
5

5/16

"
2.8
Yes
1
UL Listed

UL Listed Charger
Built-In Light
00000000
000000
D
Makita DT04R1
12V DC
100
2
3,000 rpm
5

5/16

"
2.1
Yes
1
__
__
Built-In Light
000000000
000000
D
Makita XDT16T
18V DC
133.3
4
3,600 rpm
4

9/16

"
3.4
Yes
1
__
__
Built-In Light
000000000
000000
D
Makita XDT16Z
18V DC
133.3
4
3,600 rpm
4

9/16

"
1.9
No
1
__
__
Built-In Light
000000000
000000

Straight Grip

Lithium Ion

(Li-Ion)

Battery

F
Makita XLT01
18V DC
44
Variable
2,000 rpm
15

1/4

"
3.9
Yes
1
UL Listed

UL Listed Charger
Built-In Light
00000000
000000
F
Makita XLT01Z
18V DC
44.2
Variable
2,000 rpm
15

1/4

"
2.5
No
1
__
__
Built-In Light
000000000
000000