Battery Terminal
Spreaders/Cleaners

Also known as battery reamers, these tools spread open a battery cable clamp and clean the terminal all at once.
| | | |
| --- | --- | --- |
| Material | | Each |
| Steel | 000000 | 000000 |
Adjustable Pliers for Rounded Fasteners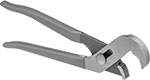 The bottom jaw is shorter than the top for a firm grip on the flats of bolt heads and nuts that have rounded corners. Also known as battery terminal pliers, the curved jaws are also good for gripping other round material. Slide the jaw pivot point to a range of positions. The grips are plastic for comfort.