Bearing Grease Packers
Quickly lubricate bearings—these packers force out the old grease and replace it with your new grease.
Portable packer is small enough for hand-held operation and strong enough to be used in a vise for more demanding applications. Bench-mount packer connects to your grease gun's nozzle. For larger bearing applications, mount directly to your workbench.
For technical drawings and 3-D models, click on a part number.

Portable
For NLGI
Viscosity Grade

Min.


ID

Max.


OD
Material
Loading
Method

Dia.

Cap

Ht.

Base


Ht.

Each
2

3/4

"
3

1/2

"
Plastic
Hand Pack
4

1/8

"
3

3/16

"
4

9/16

"
000000
000000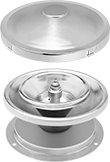 Bench Mount
For NLGI
Viscosity
Grade

Min.


ID

Max.


OD
Material
Loading
Method
Grease
Fitting
Style

Dia.

Cap


Ht.

Base


Ht.

Base
Plate


Dia.

Hole


Dia.

No.


of
Holes
Fasteners
Included
Each
0, 1, 2

3/4

"
6"
Steel
Grease Gun
Standard
6

3/4

"
1

9/16

"
3

1/8

"
6

1/2

"

1/4

"
3
No
000000
0000000