Shims for Ball Bearing Housings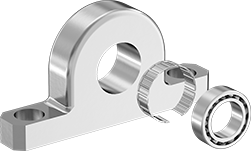 Also called tolerance rings, these rings are for use in stamped, molded, or worn housings to form a tight hold on the bearings. They work like a spring, creating tension between the bearing and the housing to hold the bearing in place. They also reduce vibration and compensate for some thermal expansion between the housing and the bearing and eliminate the need for keys, pins, and adhesives. They're made of stainless steel for corrosion resistance.
For technical drawings and 3-D models, click on a part number.
Trade


No.

OD

Wd.

Static
Radial Load


Capacity,

lbs.

Bearing
Mount
Bore

Dia.

Thick.

Corrugation


Ht.

Misalignment
Capability
Material
Minimum
Hardness
Each

Inch

R2

3/8

"

5/32

"
140
0.43"-0.433"
0.008"-0.02"
0.03"-0.05"
0.5°
301 Stainless Steel
Rockwell C40
0000000
000000
R3

1/2

"
0.196"
180
0.555"-0.558"
0.008"-0.02"
0.03"-0.05"
0.5°
301 Stainless Steel
Rockwell C40
0000000
00000
R4

5/8

"
0.196"
250
0.68"-0.683"
0.008"-0.02"
0.03"-0.05"
0.5°
301 Stainless Steel
Rockwell C40
0000000
00000
R6

7/8

"

1/4

"
580
0.95"-0.953"
0.008"-0.02"
0.03"-0.05"
0.5°
301 Stainless Steel
Rockwell C40
0000000
00000
R8

1

1/8

"

1/4

"
720
1.199"-1.203"
0.008"-0.02"
0.03"-0.05"
0.5°
301 Stainless Steel
Rockwell C40
0000000
00000

Metric

38, 608
22mm
7mm
550
23.9mm-23.97mm
0.203mm-0.508mm
0.749mm-1.25mm
0.5°
301 Stainless Steel
Rockwell C40
0000000
00000
6000

26mm
8mm
770
27.88mm-27.96mm
0.203mm-0.508mm
0.749mm-1.25mm
0.5°
301 Stainless Steel
Rockwell C40
0000000
00000
6200

30mm
9mm
980
31.9mm-31.97mm
0.203mm-0.508mm
0.749mm-1.25mm
0.5°
301 Stainless Steel
Rockwell C40
0000000
00000
6201

32mm
10mm
670
33.88mm-33.98mm
0.203mm-0.508mm
0.749mm-1.25mm
0.5°
301 Stainless Steel
Rockwell C40
0000000
00000
6202, 6300
35mm
11mm
820
36.88mm-36.98mm
0.203mm-0.508mm
0.749mm-1.25mm
0.5°
301 Stainless Steel
Rockwell C40
0000000
00000
6203

40mm
12mm
1,000
41.88mm-41.98mm
0.203mm-0.508mm
0.749mm-1.25mm
0.5°
301 Stainless Steel
Rockwell C40
0000000
00000
6204, 6303
47mm
14mm
1,400
48.86mm-48.97mm
0.203mm-0.508mm
0.749mm-1.25mm
0.5°
301 Stainless Steel
Rockwell C40
0000000
00000
6205, 6304
52mm
15mm
1,600
54.35mm-54.48mm
0.203mm-0.508mm
0.749mm-1.25mm
0.5°
301 Stainless Steel
Rockwell C40
0000000
00000
6206, 6305
62mm
16mm
2,000
64.33mm-64.46mm
0.203mm-0.508mm
0.749mm-1.25mm
0.5°
301 Stainless Steel
Rockwell C40
0000000
00000
6207

72mm
17mm
2,900
73.91mm-73.99mm
0.203mm-0.508mm
0.749mm-1.25mm
0.5°
301 Stainless Steel
Rockwell C40
0000000
00000
6208

80mm
18mm
3,250
81.88mm-81.96mm
0.203mm-0.508mm
0.749mm-1.25mm
0.5°
301 Stainless Steel
Rockwell C40
0000000
00000
6209

85mm
19mm
4,300
86.91mm-86.99mm
0.203mm-0.508mm
0.749mm-1.25mm
0.5°
301 Stainless Steel
Rockwell C40
0000000
00000
6210

90mm
20mm
4,550
91.89mm-91.97mm
0.203mm-0.508mm
0.749mm-1.25mm
0.5°
301 Stainless Steel
Rockwell C40
0000000
00000
6211

100mm
21mm
5,100
102.89mm-102.97mm
0.203mm-0.508mm
0.749mm-1.25mm
0.5°
301 Stainless Steel
Rockwell C40
0000000
00000
6212

110mm
22mm
6,530
111.91mm-111.98mm
0.203mm-0.508mm
0.749mm-1.25mm
0.5°
301 Stainless Steel
Rockwell C40
0000000
00000
6301

37mm
12mm
900
38.88mm-38.98mm
0.203mm-0.508mm
0.749mm-1.25mm
0.5°
301 Stainless Steel
Rockwell C40
0000000
00000
6302

42mm
13mm
1,200
43.86mm-43.96mm
0.203mm-0.508mm
0.749mm-1.25mm
0.5°
301 Stainless Steel
Rockwell C40
0000000
00000
6305W
62mm
23mm
3,600
64.33mm-64.46mm
0.203mm-0.508mm
0.749mm-1.25mm
0.5°
301 Stainless Steel
Rockwell C40
0000000
00000
6306

72mm
19mm
3,600
73.91mm-73.99mm
0.203mm-0.508mm
0.749mm-1.25mm
0.5°
301 Stainless Steel
Rockwell C40
0000000
00000
6307

80mm
21mm
4,000
81.88mm-81.96mm
0.203mm-0.508mm
0.749mm-1.25mm
0.5°
301 Stainless Steel
Rockwell C40
0000000
00000
6308

90mm
23mm
5,350
91.89mm-91.97mm
0.203mm-0.508mm
0.749mm-1.25mm
0.5°
301 Stainless Steel
Rockwell C40
0000000
00000
6309

100mm
25mm
6,550
101.9mm-101.98mm
0.203mm-0.508mm
0.749mm-1.25mm
0.5°
301 Stainless Steel
Rockwell C40
0000000
00000
6310

110mm
27mm
7,190
111.91mm-111.98mm
0.203mm-0.508mm
0.749mm-1.25mm
0.5°
301 Stainless Steel
Rockwell C40
0000000
00000
6311

120mm
29mm
7,950
121.89mm-121.97mm
0.203mm-0.508mm
0.749mm-1.25mm
0.5°
301 Stainless Steel
Rockwell C40
0000000
00000
6312

130mm
31mm
10,500
131.9mm-131.97mm
0.203mm-0.508mm
0.749mm-1.25mm
0.5°
301 Stainless Steel
Rockwell C40
0000000
00000
6313
140mm
33mm
12,200
141.9mm-141.98mm
0.203mm-0.508mm
0.749mm-1.25mm
0.5°
301 Stainless Steel
Rockwell C40
0000000
00000
6314
150mm
35mm
13,000
151.89mm-151.96mm
0.203mm-0.508mm
0.749mm-1.25mm
0.5°
301 Stainless Steel
Rockwell C40
0000000
00000
6315
160mm
37mm
13,950
161.89mm-161.97mm
0.203mm-0.508mm
0.749mm-1.25mm
0.5°
301 Stainless Steel
Rockwell C40
0000000
00000
6316
170mm
39mm
17,250
171.88mm-171.95mm
0.203mm-0.508mm
0.749mm-1.25mm
0.5°
301 Stainless Steel
Rockwell C40
0000000
00000