Sleeve Bearing Carriages and Guide Rails

Carriage with PTFE Bearing

Carriage with Polyethylene Bearing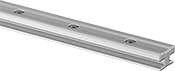 Guide Rail for Carriage with PTFE Bearing

Guide Rail for Carriage with Polyethylene Bearing
With fewer moving parts and no need for lubrication, sleeve bearing carriages perform better in dusty and wet environments than ball and roller bearing carriages. They're also better at handling impact and vibration.
Carriages with PTFE bearing operate with less friction than carriages with a polyethylene bearing.
Carriages with polyethylene bearing have high impact strength and are more abrasion resistant than carriages with a PTFE bearing.
Note: Each carriage can only be used with its corresponding guide rail. Load capacity is diminished when carriages are mounted upside down or on a vertical surface.
For technical drawings and 3-D models, click on a part number.
Zinc Carriages and PTFE Plastic Bearings

Anodized Aluminum
Guide Rails

For Rail


Wd.,


mm
Static
Load


Cap.,

lbs.

O'all




Ht.,


mm
Carriage


Wd.,


mm
Carriage


Lg.,


mm

Max.




Temp.,




°F

No.


of
Holes
Hole
Thread
Size

Hole
Thread


Pitch,

mm
Hole


Dp.,


mm
Fasteners
Included
Each
Rail


Lengths,


mm
Per
mm
7
45
8
17
23
190°
4
M2

0.4
6.5
No
000000
000000
0000000
00000
9
100
10
20
29
190°
4
M2

0.4
7.2
No
000000
00000
0000000
000
12
210
13
27
34
190°
4
M3

0.5
9.5
No
000000
00000
0000000
000
15
310
16
32
42
190°
4
M3

0.5
11
No
000000
00000
0000000
000
Aluminum Carriages and PTFE Plastic Bearings

Anodized Aluminum
Guide Rails

For Rail


Wd.,


mm
Static
Load


Cap.,

lbs.

O'all




Ht.,


mm
Carriage


Wd.,


mm
Carriage


Lg.,


mm

Max.




Temp.,




°F

No.


of
Holes
Hole
Thread
Size

Hole
Thread


Pitch,

mm
Hole


Dp.,


mm
Fasteners
Included
Each
Rail


Lengths,


mm
Per
mm
15
900
24
47
68
190°
4
M5

0.8
16
No
000000
000000
0000000
00000
20
1,650
30
63
81
190°
4
M6

1
19.8
No
000000
00000
0000000
000
23
2,200
36
70
90
190°
4
M8

1.25
24.8
No
000000
00000
0000000
000
Polyethylene Plastic Carriages and Bearings

Ceramic-Coated


Aluminum Guide Rails

For
Rail


Wd.

Static
Load


Cap.,

lbs.

O'all




Ht.

Carriage


Wd.

Carriage


Lg.

Max.




Temp.,




°F

No.


of
Holes
Hole
Thread
Size

Hole
Thread


Pitch,

mm
Hole


Dp.

Fasteners
Included
Each
Rail
Lengths
Per
Inch

1/2

"
100

9/16

"
1"
1

1/4

"
180°
4
M3

0.5

5/16

"
No
0000000
000000
000000
00000

3/4

"
200

3/4

"
1

1/4

"
1

3/4

"
180°
4
M3

0.5

5/16

"
No
0000000
00000
000000
0000
1"
300

7/8

"
1

3/4

"
2"
180°
4
M4

0.7

3/8

"
No
0000000
00000
000000
0000