Mounted Linear Bearings for Spline Shafts
Ready to mount on your linear motion spline shaft, these bearings come installed in a housing and have grooves that match up with the splines on your shaft. Because they're splined, they transfer rotational force as they move loads up and down the shaft's length. A flanged end makes them best for lifting and lowering loads on vertical shafts. All have fixed alignment—use them where shaft misalignment is unlikely.
Ball bearings, also known as ball splines, create less friction than plain bearings, making them smooth and precise even at high speeds. However, they don't produce as much rotational force. Choose them for robotic systems and other automated applications that require complex, fast movements.
For technical drawings and 3-D models, click on a part number.
Steel Ball Bearings with Steel Housing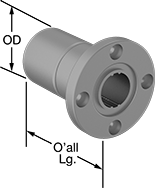 Ball Bearing


For

No.

of
Splines
For Shaft


Dia.,

mm
Overall


Lg.,

mm
Flange


OD,

mm
Bolt Circle


Dia.,

mm

OD,


mm

Max.

Torque,




in.-lbs.

Max.




Temperature,




° F

No.


of
Thread
Size

Each

Fixed Alignment

4
23
70
60
47
37
1,433
176°
4
M5 × 0.8 mm
00000000
0000000

Splined
End ×
Step-Down
End

Four Splines

Dia.,


mm

Lg.,


mm
Spline


Lg.,

mm
End Type

Dia.,


mm

Lg.,


mm
Each
23
350
200
Splined End × Step-Down End
20
150
00000000
0000000
Metric
Press-Fit

Drill Bushings with Head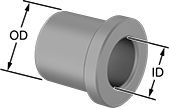 Shown in Countersunk Hole

Shown in Standard Hole
Even under extreme drilling pressure, these metric bushings won't press through your jig plate. A flanged head on the top of the bushing acts as a stop, preventing it from moving as you push down your drill bit, reamer, or other cutting bit. Drill bushings ensure accurate, consistent cuts and drilled holes from one part to the next. They sometimes also work as spacers, shims, and machinery bushings. Made of hardened, ground steel, these bushings hold their shape and resist wear over time. The flanged head protects your jig plate from damage caused by heavy use.
Although it's no longer an active standard, DIN 172 is still a common reference point for making sure parts are compatible with other parts and tools.
These bushings work in both countersunk and standard drill holes. To install, place the bushing inside the hole in your jig. A chamfered edge on the bottom of the bushing helps center the bushing in the hole. Once centered, press the bushing into the hole with a hydraulic or lever press.
For technical drawings and 3-D models, click on a part number.
OD,


mm

Lg.,


mm

OD,


mm

Thick.,


mm

ID,


mm

OD,


mm

Lg.,


mm
Drill
Bushing
Type
Material
Hardness
Specifications
Met

1-5

6-11

12-Up

23 mm ID

35
15
39
5
0.02 to 0.041
0.017 to 0.033
-0.2 to 0.2
H
Steel
Rockwell C61
DIN 172
000000000
000000
000000
000000
35
31
39
5
0.02 to 0.041
0.017 to 0.033
-0.3 to 0.3
H
Steel
Rockwell C61
DIN 172
000000000
00000
00000
00000
35
40
39
5
0.02 to 0.041
0.017 to 0.033
-0.3 to 0.3
H
Steel
Rockwell C61
DIN 172
000000000
00000
00000
00000