About Ball and Roller Bearings
About Shaft Collars
Shaft collars are useful for holding and positioning components on a shaft. They can also serve as mechanical stops and stroke limiters.
One-Piece

Thrust Ball Bearings

In addition to handling higher loads than three-piece ball bearings, one-piece bearings are easier to handle. They have an outer band that holds the bearing together and acts as a shield against dust and other contaminants.
For technical drawings and 3-D models, click on a part number.
For
Shaft


Dia.

OD

Thick.

Ring
Material
Dynamic
Static

Max.




Speed,


rpm
Lubrication

Temp.




Range,




°F

Features
Each

Shielded

1

5/8

"
2

31/32

"

13/16

"
Steel
10,300
25,000
2,400
Required
-40° to 250°
Lubrication Hole
00000000
000000
Bearing Retaining Locknuts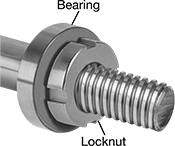 Carbon Steel

Stainless Steel
With a nylon insert that grips your threaded shaft or spindle without damaging its threads, these locknuts—also called shaft nuts—hold bearings, bushings, gears, and pulleys prone to vibration tightly in place. They come as one piece, so you can easily clamp them onto your shaft or spindle. But, since they aren't made entirely of metal, they don't stand up to heat as well as all-metal locknuts. Slots in their sides mean you can tighten and loosen them with a spanner wrench or spanner socket. Their face is also chamfered to help keep the size and weight of your assembly at a minimum. All meet international standards for bearing locknut dimensions.
When choosing your thread spacing, consider the precision of your application. The finer the threads, the more control you have when making adjustments.
All carbon steel locknuts are strong and resist wear, though they don't stand up to corrosion as well as stainless steel locknuts. 303 stainless steel locknuts resist corrosion better than steel locknuts but aren't as strong. They withstand washdowns and chemicals.
For technical drawings and 3-D models, click on a part number.
Size

Spacing

OD

Wd.

Insert

Max.




Temp.,

°F

Specifications Met
Each
Each

Carbon Steel

Chamfered Face

2.157"-18

Extra Fine

2

31/32

"

9/16

"
160°
ANSI/ABMA 8.2
0000000
000000
00000000
0000000

303 Stainless Steel

Chamfered Face

2.157"-18

Extra Fine

2

31/32

"

9/16

"
160°
ANSI/ABMA 8.2
0000000
00000
00000000
000000