About Shaft Collars
Shaft collars are useful for holding and positioning components on a shaft. They can also serve as mechanical stops and stroke limiters.
Round
Maintenance-Free

Turntables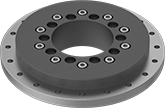 The PTFE sleeve bearings will never need lubrication. These turntables add rotational positioning to machinery and equipment.
For technical drawings and 3-D models, click on a part number.
Capacity,




lbs.

OD,


mm

ID,


mm
Overall


Ht.,

mm
Material
Type
Material
Mounting
Fasteners Included
Each

Lubrication Not Required

2,200
300
200
38
Anodized Aluminum
Sleeve
PTFE Plastic
No
000000
0000000
Bearing Retaining Nuts

Chamfered
Often paired with spring lock washers to strengthen their hold, these retaining nuts—also known as shaft nuts—keep vibration from shifting bearings, bushings, pulleys, and gears on your threaded shaft or spindle. They have slotted sides, so you can tighten and loosen them with a spanner wrench or spanner socket. Made of carbon steel, they're strong and wear resistant.
Chamfered-face retaining nuts weigh less and produce less heat than stepped-face nuts. They meet ISO 2982 (formerly DIN 981), an international standard for bearing locknut dimensions. Their sizes correspond to SKF KM series. Use them with DIN 5406 spring lock washers.
For technical drawings and 3-D models, click on a part number.
Size

Pitch,


mm
Spacing

OD,


mm

Wd.,


mm
Specifications Met
For Lock Washer
Specifications Met
Each

Carbon Steel

Chamfered Face

M240

4
Extra Fine

300
34
DIN 981, ISO 2982
DIN 5406
0000000
0000000