Easy-Install

Dry-Running

Flanged Sleeve Bearings

A slit running along the length of these bearings allows you to quickly slip them into a housing—no tools required.
Note: Dynamic load capacity is the maximum load a bearing can withstand at a given shaft speed. If your application's load and speed requirements are below the values listed, the bearing will work.
For technical drawings and 3-D models, click on a part number.
For
Housing ID

Lg.

Flange
OD
Flange


Thick.

Dynamic Radial
Load Capacity
Dynamic Thrust
Load Capacity
Color
Temperature


Range,

°F

Each

Nylon Plastic Bearings

6.2mm
5mm
8mm
0.6mm
11 lbs. @ 120 rpm
14 lbs. @ 120 rpm
White
-40° to 400°
0000000
00000
Electrical-Insulating

Sleeve Washers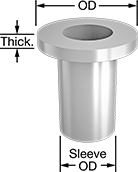 Also known as shoulder or insulator washers, these nonmetal washers block electrical current and prevent galvanic corrosion from mating different types of metal.
Nylon 6/6 washers have good abrasion resistance. Exposure to moisture may cause them to expand.
Ceramic washers withstand high temperatures and resist moisture as well as hydrochloric and nitric acid gases.
For
Screw
Size
ID
OD
Sleeve
OD

Thick.

Overall


Ht.

Min.

Max.

Hardness
Color

Pkg.




Qty.

Pkg.

M3
3.100mm
6.200mm
4.000mm
1.000mm
3.000mm
-40°
180°
Rockwell R108
Off-White
100
000000000
00000
M3
3.100mm
6.200mm
4.000mm
1.000mm
5.000mm
-40°
180°
Rockwell R108
Off-White
100
000000000
0000
M3
3.100mm
6.200mm
4.000mm
1.000mm
9.000mm
-40°
180°
Rockwell R108
Off-White
100
000000000
0000

Ceramic

M3
3.100mm
6.200mm
4.000mm
1.500mm
3.000mm
Not Rated
1700°
__
Off-White
1
000000000
0000
M3
3.100mm
6.200mm
4.000mm
1.500mm
5.000mm
Not Rated
1700°
__
Off-White
1
000000000
0000
M3
3.100mm
6.200mm
4.000mm
1.500mm
9.000mm
Not Rated
1700°
__
Off-White
1
000000000
0000