Sheet Metal Forming Bags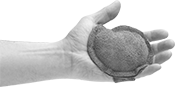 Hand Held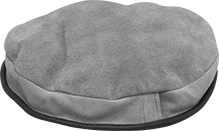 Tabletop
Hammer sheet metal into rough shapes using these forming bags as a stabilizing base. Made of leather for durability, they are often used to initially form sheet metal before it is finished on a solid surface such as a forming block, dolly, or anvil.
Hand-held bags are filled with lead shot and fit in your palm to form small pieces. A strap keeps them secure.
Tabletop bags are unfilled. Fill them with sand or No. 9 lead shot (sold separately), which conforms to shapes better. The filling needs space to shift as these bags are used for forming, so leave some room in the bag.
Dia.

Capacity,




lbs.

Material
Forming
Bag Type
Closure Type
Each

Hand held

4"
2
Leather
Filled
Hook and Loop
0000000
000000

Tabletop

6"
10
Leather
Unfilled
Hook and Loop
0000000
00000
12"
18
Leather
Unfilled
Hook and Loop
0000000
00000
18"
75
Leather
Unfilled
Hook and Loop
0000000
00000