Insecticide Sprays

Sprayers with a mist pattern leave a residual coating to continue killing insects for weeks.
Sprayer with a stream pattern can hit a target up to 20 feet away.
Sprayers cannot be sold outside of the United States due to product registration requirements.
Each
For Use On
For Use
Outdoors
Container Net


Weight,

oz.

Spray
Pattern
Cannot Be Sold To
Each
Crawling Insects, Flying Insects
Yes
17
Mist
Outside United States
0000000
000000
Flying Insects
Yes
14
Stream
Outside United States
0000000
00000
Yellow Jacket Traps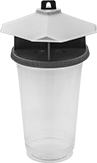 Fill these baited traps with water to drown yellow jackets and then throw them away when they're full.
These traps cannot be sold to Canada due to import regulations.
Dia.

Ht.

Material
Cannot Be
Sold To

1-11

12-Up

4"
9"
Plastic
Canada
0000000
000000
000000

A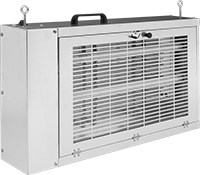 B

C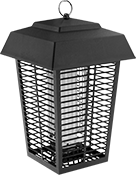 D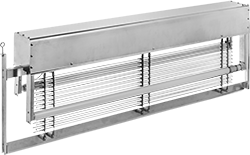 E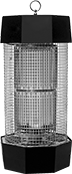 F
Attracted by the bright UV light bulbs, flying insects will receive a lethal shock when they come into contact with the electrified metal grid.
Style C are designed to mount in a corner.
Zappers, optional fly lures, and replacement bulbs cannot be sold to the regions listed below due to import, disposal, or product registration requirements.
Style
Approximate


Coverage,




sq.

ft.

Dia.

Ht.

Wd.

Dp.

Material
Location
Hole


Dia.

Fasteners
Included
Cord


Lg.,




ft.

Max.


Wattage
per

Bulb,

W
Includes
Specifications
Met
Cannot
Be
Sold To
Each
Each

Indoor

A
1,800
__
26"
15"
5"
White Painted Steel
Wall

1/2

"
Yes
6
25
Bug Collection Tray
UL Listed

Canada
0000000
0000000
0000000
000000
A
2,500
__
57"
14"
6"
Aluminum
Wall

1/2

"
Yes
6
40
Bug Collection Tray
UL Listed

Canada
0000000
000000
0000000
00000
A
3,500
__
30"
19"
6"
Aluminum
Wall

1/2

"
Yes
6
25
Bug Collection Tray
UL Listed

Canada
0000000
000000
0000000
00000
A
3,500
__
30"
19"
6"
Stainless Steel
Wall

1/2

"
Yes
6
25
Bug Collection Tray
UL Listed

Canada
0000000
000000
0000000
00000
B
2,500
__
14"
26"
6"
Aluminum
Ceiling
__
No
6
25
Bug Collection Tray
UL Listed

Canada
0000000
000000
0000000
00000
B
2,500
__
14"
26"
6"
Stainless Steel
Ceiling
__
No
6
25
Bug Collection Tray
UL Listed

Canada
0000000
000000
0000000
00000
B
3,500
__
17"
55"
5"
Aluminum
Ceiling
__
No
6
40
Bug Collection Tray
UL Listed

Canada
0000000
000000
0000000
00000
C
2,500
__
57"
14"
6"
White Painted Steel
Wall

1/2

"
Yes
6
40
Bug Collection Tray
UL Listed

Canada
0000000
000000
0000000
00000

Outdoor

D
1,000
__
17"
10"
10"
Black Plastic
Ceiling
__
No
1
40
__
UL Listed

Outside United States and Canada
0000000
00000
0000000
00000
D
1,600
__
19"
11"
11"
Black Plastic
Ceiling
__
No
1
40
__
UL Listed

Outside United States and Canada
0000000
000000
0000000
00000
E
8,000
__
21"
56"
7"
Aluminum
Ceiling
__
No
6
40
__
__
Canada
0000000
000000
0000000
00000
F
2,000
13"
26

1/4

"
__
__
Black Painted Steel
Ceiling
__
No
5
40
Bug Collection Tray
CSA Certified, UL Listed
Canada
0000000
000000
0000000
00000
| | | | |
| --- | --- | --- | --- |
| Replacement Micro Switch for Style A, B, E | 0000000 | Each | 00000 |
| Replacement Ballast for Style A, B, C, E with 40W Bulbs | 0000000 | Each | 00000 |
| Replacement Grid Insulator for Style A, B, E | 0000000 | Each | 0000 |
| Replacement Ballast for Style A, B with 25W Bulbs | 0000000 | Each | 00000 |
| Replacement Bulb Holder for Style A, B with 25W Bulbs | 0000000 | Each | 0000 |
| Optional Fly Lure for Style D—Cannot Be Sold To Canada | 00000000 | Each | 00000 |