Hammer-Driven

Large-Diameter

Wire Rope Cutters

With a quick hammer blow, these cutters make cuts without squeezing or flattening wire. For best results, use with Wire Rope Cutting Bands.
Lever-Operated

Bench-Mount

Wire Rope Cutters

Use the lever to make one-handed cuts with minimal material distortion. Cutter mounts to a workbench for extra stability and ease of use for repeated cuts.
For technical drawings and 3-D models, click on a part number.
Hydraulic-Assist

Lever-Operated

Large-Diameter

Wire Rope Cutters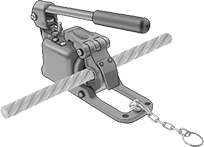 These manually operated cutters make a clean cut with just a few pumps of the handle. They don't require any outside power and are light enough to carry to the job.
Replacement
Cutting Blades

Steel
Stainless
Steel

Lg.

Wd.

Ht.

Handle
Material
Grip
Material

Lg.

Wd.

No.


of

Dia.

Fasteners
Included
Each
Each
Each

3/4

"

3/4

"
12"
3

5/8

"
6"
Steel
Plastic
12"
3

5/8

"
4

3/8

"
No
00000000
000000000
00000000
0000000
00000000
0000000
1

1/8

"
1

1/8

"
14"
4

1/8

"
7"
Steel
Plastic
14"
4

1/8

"
4

3/8

"
No
00000000
00000000
00000000
000000
00000000
000000
1

3/4

"
1

3/4

"
18

1/2

"
5"
8"
Steel
Plastic
18

1/2

"
5"
4

3/8

"
No
00000000
00000000
00000000
000000
00000000
000000