Brushes for Angles and Corners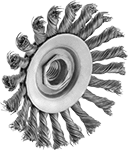 Clean around edges, corners, and contours with these dish-shaped brushes. They have twisted bristles that handle tasks such as edge rounding and removing weld slag, heavy surface contamination, and large burs.
Stainless steel bristles won't leave behind debris that could cause rust on your workpiece.
For technical drawings and 3-D models, click on a part number.
Brush


Dia.

Arbor Hole
Thread Size

Dia.

Lg.

Style
Flexibility

Max.




Speed,

rpm
Each

For Use With Angle Grinders

Steel

Bristles—

For Use On

Steel,

Plastic

4"

3/8

"-24

0.020"

3/4

"
Twisted
Rigid
12,500
00000000
000000
4"

1/2

"-13

0.020"

3/4

"
Twisted
Rigid
12,500
00000000
00000
4"

5/8

"-11

0.014"

3/4

"
Twisted
Rigid
12,500
00000000
00000
4"

5/8

"-11

0.020"

3/4

"
Twisted
Rigid
12,500
00000000
00000
4

1/2

"

1/2

"-13

0.014"
1"
Twisted
Rigid
12,500
00000000
00000
4

1/2

"

5/8

"-11

0.014"
1"
Twisted
Rigid
12,500
00000000
00000
4

1/2

"

5/8

"-11

0.020"
1"
Twisted
Rigid
12,500
00000000
00000

Stainless Steel

Bristles—

For Use On Stainless

Steel,

Aluminum,

Brass,

Bronze,

Copper,

Plastic

4"

3/8

"-24

0.014"

3/4

"
Twisted
Rigid
12,500
00000000
00000
4"

3/8

"-24

0.020"

3/4

"
Twisted
Rigid
12,500
00000000
00000
4"

1/2

"-13

0.020"

3/4

"
Twisted
Rigid
12,500
00000000
00000
4"

5/8

"-11

0.014"

3/4

"
Twisted
Rigid
12,500
00000000
00000
4"

5/8

"-11

0.020"

3/4

"
Twisted
Rigid
12,500
00000000
00000
4

1/2

"

5/8

"-11

0.014"
1"
Twisted
Rigid
12,500
00000000
00000
4

1/2

"

5/8

"-11

0.020"
1"
Twisted
Rigid
12,500
00000000
00000