Replacement Parts for
Air-Powered

Paint Sprayers

Needle


Fluid Nozzle

Repair Kit
Replace damaged and worn parts on Binks paint sprayers.
Repair kits for Binks models 95A and 95AR sprayers include gaskets, a gasket packing spacer, a packing conversion kit without a needle, a seal, and a sealing ring.
Repair kits for Binks models 2001 and 2100 sprayers include air valves, gaskets, seals, and springs.
Paint Sprayer Cleaning Kits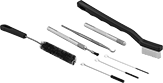 Keep paint spray guns in good condition. Kits have different-sized brushes to clean internal and external parts, cleaning needles to clean air cap holes, and a pick to remove seals and gaskets.
Number
of
Pieces
Includes
For
Use
With
Each
8

1/2

" Tube Brush


3/16

" Tube Brush
3-Piece Mini Tube Brush Set
Abrasive Brush
Cleaning Needle
Pick
Adhesives, Dye, Epoxy, Lacquer, Polyurethane, Solvent-Based Paint and Coatings, Stain, Water-Based Paint and Coatings
0000000
000000