Bird Prevention Spikes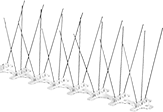 Install these flexible strips on roof edges, window sills, gutters, and ledges to keep birds from landing. Nail, screw, or glue strips to surfaces.
Plastic spikes have snap-off notches every 5". Stainless steel spikes can be cut with a hack saw.
Bird Prevention Arms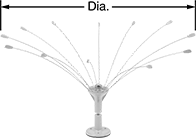 These arms move in the wind, acting as both a visual and physical deterrent. They are often used on air-conditioning units, tables, and parking lot light fixtures.