How to

Identify and Measure Fittings
Pipe size is an industry designation, not the actual size. View information about how to measure threaded and unthreaded pipe and pipe fittings.
High-Pressure

Plated Brass Threaded Pipe Nipples and Pipe
The plating on this pipe creates a shiny finish and provides extra protection in corrosive environments. It has the strength to handle high-pressure applications. Black zinc–plated brass pipe has a shiny finish that offers better corrosion resistance than nickel-plated brass and stands up to salt-spray applications.
Fully threaded pipe is also known as a close nipple; it is threaded on each end to the center.
NPTF (Dryseal) threads are compatible with NPT threads.
For technical drawings and 3-D models, click on a part number.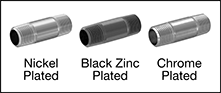 For Use

With:

Air,

Natural

Gas,

Oil,

Water
Pipe
Size

Lg.

Max.

Pressure
Each

NPTF

1/8

1

1/2

"
1,000 psi @ 72° F
0000000
00000

1/8

2"
1,000 psi @ 72° F
0000000
0000

1/8

3"
1,000 psi @ 72° F
0000000
0000

1/8

4"
1,000 psi @ 72° F
0000000
0000

1/4

1

1/2

"
1,000 psi @ 72° F
0000000
0000

1/4

2"
1,000 psi @ 72° F
0000000
0000

1/4

3"
1,000 psi @ 72° F
0000000
0000

1/4

4"
1,000 psi @ 72° F
0000000
0000

3/8

1

1/2

"
1,000 psi @ 72° F
0000000
0000

3/8

2"
1,000 psi @ 72° F
0000000
0000

3/8

3"
1,000 psi @ 72° F
0000000
0000

3/8

4"
1,000 psi @ 72° F
0000000
00000

1/2

1

1/2

"
1,000 psi @ 72° F
0000000
0000

1/2

2"
1,000 psi @ 72° F
0000000
0000

1/2

3"
1,000 psi @ 72° F
0000000
0000

1/2

4"
1,000 psi @ 72° F
0000000
00000